Boardman library hosts Nook for the Novice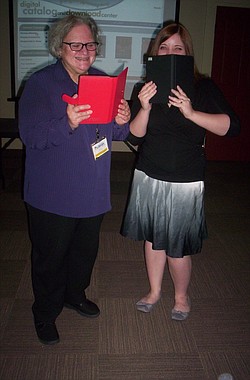 Photo
Neighbors | Alisa Manna.Librarian Sheila Glowacki (left) and Katherina Matasic (right) had fun showing people how to download ebooks with their Nooks at Boardman library's program.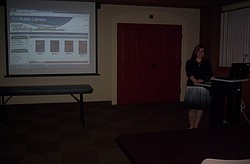 Photo
Neighbors | Alisa Manna.Children's Librarian Katherina Matasic talked about the Nook OverDrive application at Boardman library's Nook for the Novice. This application will make it much easier for partons of the library to download and reserve ebooks from their Nooks.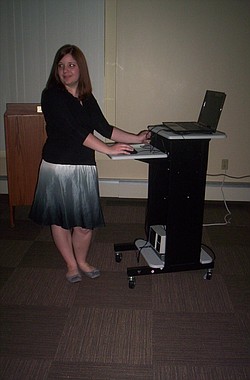 Photo
Neighbors | Alisa Manna.Children's Librarian Katherina Matasic demonstrated how to download ebooks from the library's website during the Boardman's library's Nook for the Novice program.
By ALISA MANNA
The Boardman library offered its adult program, Nook for the Novice, on Oct. 18 for anyone interested in learning how to download e-books. The program was designated to help Nook users become comfortable with the device and provide ways to buy and download books.
Instructed by librarians Sheila Glowacki and Katherina Matasic, the program gives tutorials on how to find books of interest effortlessly. Until a few weeks ago, the Nook OverDrive application was not available to consumers, making it difficult for the librarians to explain the downloading process to patrons.
"Before Nook OverDrive, we used Adobe Digital Editions, which involved physically connecting the nook to a computer and downloading a special program," Matasic said. "Now you can do everything right from the Nook."
Newer editions of the device come with wifi, so after going to the Nook's "shop," registration for the OverDrive application is a one-time process. Once the application is downloaded, users can then visit the library's website, check out books and they will automatically appear in the Nook to download.
Once users have an e-book account with the library, they are able to access it with the Internet, sign in with a library card and even put e-books on hold.
Not only is OverDrive for Nook users, but it can be purchased for other products as well.
"OverDrive is also responsible for making e-books available to the library," Glowacki said.
When shopping through the library's e-books, there are different collections and two different kinds of free books. All collections include both e-books and audio books and are sorted by genres for people to pick what interests them the most. There are also categories for both children and adults.
"If you're having any trouble at all, call or just come into the library," Matasic said. "You don't even have to wait for a class — just have your Nook ready and we can help you."
The librarians said though technology is always changing, there are always easier processes on the way. Matasic knew with OverDrive the process for downloading books wouldn't be as complicated for users.
"If someone walked in for help, I could sit with them and easily show them how to use OverDrive so that they'd walk home with books," she said.