Tiffany Janis | Andrew Lombardo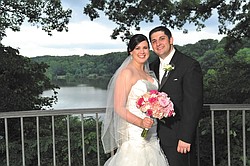 Photo
Tiffany Janis and Andrew Lombardo
YOUNGSTOWN
The Rev. John Keehner officiated at the wedding of Tiffany Janis and Andrew Lombardo, both of Bay Village, Ohio, who exchanged marriage vows at 2 p.m. July 14 in St. Columba Cathedral.
The newlyweds were honored at a reception at Avion on the Water in Canfield. They honeymooned in Antigua and live in Bay Village.
The bride is a daughter of Kenneth and Sherry Janis of Austintown. The groom is a son of Rebecca Lombardo of Cleveland and Joseph and Marlene Lombardo of Savannah, Ga.
Maid of honor was Ashley Janis, the bride's sister. Bridesmaids were Megan Teter, Danielle Storey, Amanda Casey, Christine Ortenzio and Christina Phillis. Flower girls were Gabriella and Gianna Dovala, the groom's cousins. Attendants wore black dresses.
Chris Hooton served as best man. Groomsmen were Thomas Sledz Jr. and Eric Sledz, the groom's cousins; Michael Martinelli; Jeff Noble and Jerome Krakowski.
A finger-length veil complemented the bride's fit and flare gown styled with satin on the bodice and fans of organza at the hem.
The bride graduated from John Carroll University with a bachelor's degree in English and is currently working toward a master of business administration degree at Cleveland State University. She is a training manager with Sherwin-Williams in Cleveland.
The groom holds a degree in finance from John Carroll and is attending Baldwin-Wallace College for a master of business administration degree. He is a financial analyst with Sherwin-Williams in Cleveland.