Regina Deramo | Robert Lucente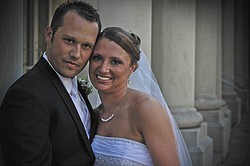 Photo
Regina Deramo and Robert Lucente
VIENNA
St. Thomas the Apostle Catholic Church was the setting Aug. 25 for the 2 p.m. wedding ceremony of Regina Deramo and Robert Lucente. The Rev. Raymond Thomas, cousin of the bride, and the Rev. David Bridling, a friend of the Deramo family, officiated. A reception followed at Lucianno's Restaurant, owned by the groom's father.
Parents of the bride are Daniel and Joan Deramo of Brookfield. The groom's parents are Barbara Siebold of Fairport Harbor, Ohio, and Robert Lucente of Austintown.
The bride wore a strapless A-line gown trimmed with ruching and beading on the bodice.
Elise Stredney, wearing a clover-green gown, was matron of honor for her sister. Bridesmaids in watermelon-pink gowns were Laurie Jonda, Holly Ickes and the groom's sisters, Andrea, Stafani and Victoria Lucente. The flower girl was Addison Stredney, niece of the bride.
Nathan Behrendt performed the duties of best man. Groomsmen were Zachary Fahmie; Mark Deramo, brother of the bride; Anthony and Vincent Lucente, brothers of the groom; and Ryan Mullins. The ring bearer was Gabriel Saunders, nephew of the groom.
The bride received a bachelor's degree in sport and exercise science and a doctorate in physical therapy from Gannon University. She is a physical therapist and branch manager of Paragon Healthcare, Las Vegas.
The groom is pursuing a degree in hospitality administration with a professional golf management certification at University of Nevada.
The couple reside in Las Vegas.