Maurielle Carpenter | Michael Moses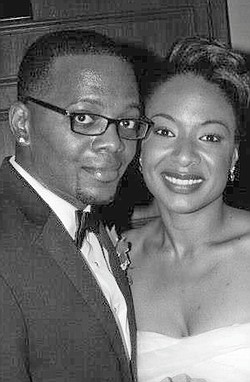 Photo
Maurielle Carpenter and Michael Moses
COLUMBUS
Maurielle Danae Carpenter and Michael Edward Moses, both of Columbus and formerly of Youngstown, were united in marriage at 4 p.m. Sept. 8 at The Church of Christ of the Apostolic Faith, Columbus, where the Rev. Bishop Moore officiated. The couple received congratulations at a reception at The Pinnacle Golf Club, Grove City, Ohio.
The bride's parents are Pastors Timothy and Denise Carpenter of Columbus. The groom's parents are Michael and Kim Moses of Youngstown.
The bride wore a mermaid-style ivory gown that featured a combination of French tulle and organza. Beaded rosette blossoms embellished the bottom of the gown.
The bride's sister, Micah Dorsey, was the matron of honor; and the bride's cousin, Keristen Brantley, was her maid of honor. Bridesmaids were Rebekah Hunter, Derrell Sutton and Jessica Whitten. Junior bridesmaids were Hollyn Tillman and Ava Amos, the bride's nieces.
Kendall Coleman and Bryan Hairston shared duties of best man. Groomsmen were Frank Andrews; Scott Moses, the groom's brother; and William Page. The ring bearer was Mackenzie Tillman, the bride's nephew. Ushers were Eric Brown, the groom's cousin; and Brian White.
The bride received a bachelor's degree cum laude in arts and media management from Columbia College. In addition to modeling, she is a self-employed artist and media consultant in Columbus.
The groom attended Columbus State Community College and is the owner and CEO of a professional sports team, the Columbus Cranes.
The couple reside in Reynoldsburg, Ohio.