JM 'Jays start off hot but fall to Comets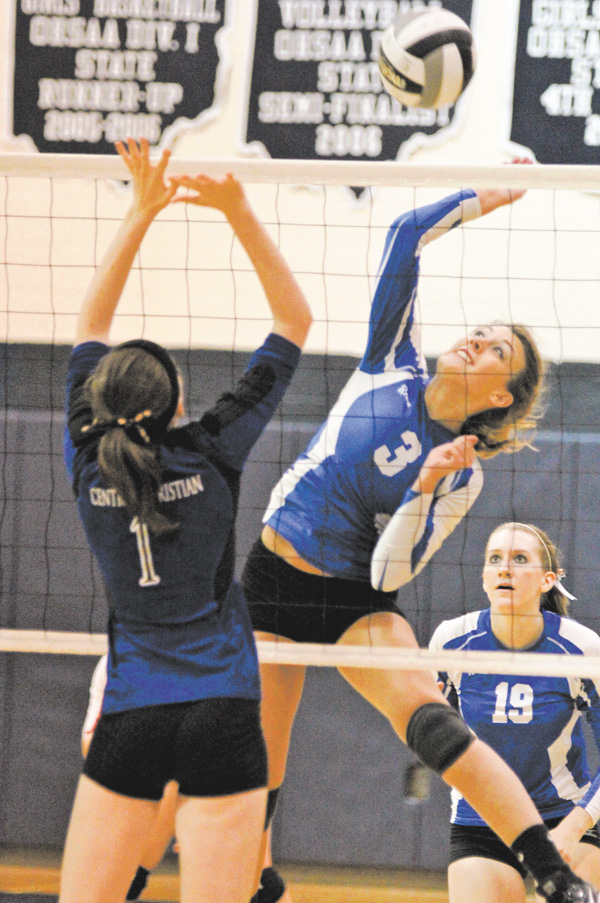 Photo
Jackson Milton's Rachael Obradovich (3) spikes the ball against Kidron Central Christian defender Natalie Swift (1) during the fourth game of Wednesday's Division IV regional volleyball semifinal at Solon High School. The Bluejays fell to the Comets, 3-1.
Jackson-Milton couldn't keep its momentum against Kidron C.C.
By Jim Flick
Solon
It was a hard-fought battle until the end, but the Jackson-Milton High volleyball team was eliminated from the regional tournament Wednesday.
The Bluejays (22-4) were defeated by Kidron Central Catholic 3-1 in the Division IV regional tournament held at Solon High School.
After winning the first set, Jackson-Milton coach Sue Prozy said, "we had that momentum going into the second set, but we just didn't pass as well as we needed to.
"When you don't pass well, it's hard to get the hits down. So we fell a little short that second game, and then they [Central Christian] had that momentum going into the third."
Prozy said she thought the Bluejays would win the fourth game.
"We battled back and forth, but they just made few less mistakes than we did," she said. "We played hard, and we wanted it so bad," said senior co-captain Paige Kiraly, who was her team's leader with 15 assists and six blocks. "But the other team wanted it just as much. But we made a little more mistakes than they did."
"It was crazy out there," added senior co-captain Rachael Obradovich, who was credited with a team-high 12 digs. "It was like nothing I ever felt before. Being a senior, it's really hard to lose, but I know the team will go on next year.
"I wanted to go farther, but things don't always go in your favor."
Co-captain Erica Hughes led the Bluejays with 15 kills. Gabby Tharp, a junior, was credited with a team-high 16 points and one serving ace.
"It was a great year," said Hughes, a junior who delivered the winning hit for Jackson-Milton in the first set. "We wanted to go farther, but everything happens for a reason."
When asked how his team recovered after losing the first game to Jackson-Milton, Central Christian coach John Finn said, "We've been tested all year. We've had situations like this before."
Finn said that a problem for Central Christian emerged in the first set when 6-foot-1 senior Sydney Mast was forced to leave the game with an injury. But she later returned and quickly became a problem for the Bluejays, recording 24 kills.
Jackson-Milton grabbed a lead late in fourth set "because we were a little premature in our celebration, and you can't do that," Kidd said.
Other statistical leaders for Central Christian were junior Melissa Nussbaum with 51 assists, senior Marissa Krier with 36 digs and sophomore Stacy Coblentz with 12 points.
Central Christian now advances to the regional championship game against Tuscarawas Central Catholic (22-4) Saturday at Solon High School.
In the earlier match, Tuscarawas Central defeated Thompson Ledgemont (24-1) 3-0, winning the matches 25-16, 25-15 and 25-22.