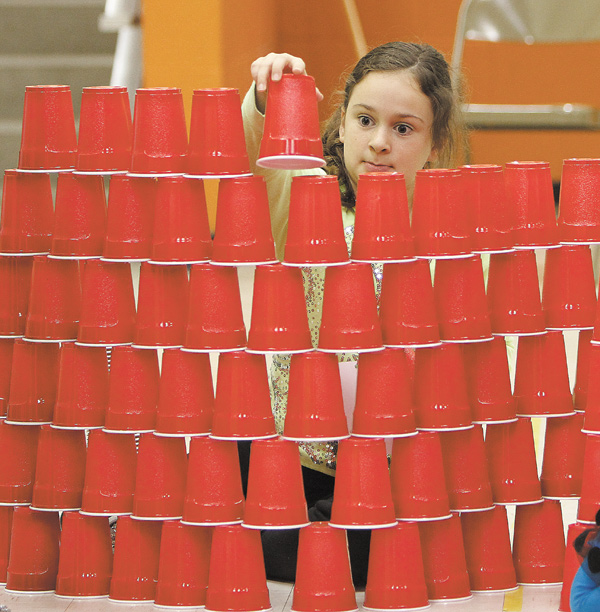 ---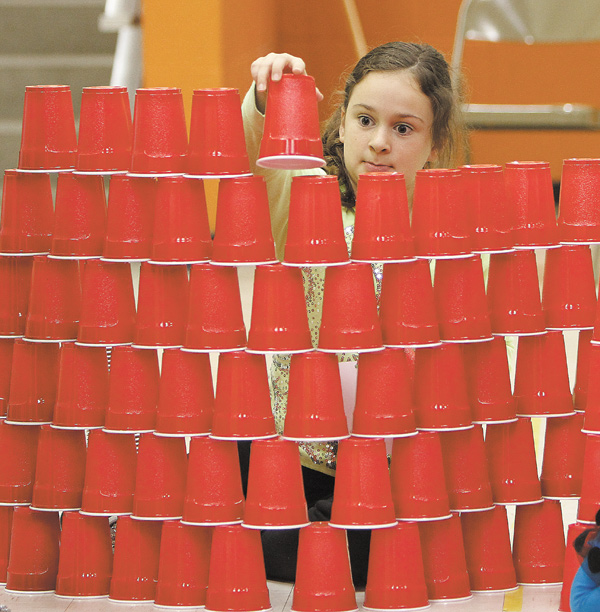 Photo
Addison Fonderlin, a second-grader at Hilltop Elementary in Canfield, works on building the tallest plastic-cup tower. Addison and her class participated Thursday in STEM Week at the school for the second year in a row, which consists of science, technology, engineering and math experiments for students to test.
By Elise Franco
efranco@vindy.com
CANFIELD
Hilltop Elementary School's second STEM Week was a bigger success than the first.
Students in kindergarten through fourth grade are spending the week participating in hands-on science, technology, engineering and math experiments designed and organized by about 200 parents, staff and community members.
Cathy Mowry, Hilltop principal, said Hilltop always has focused on these subjects but is now finding a creative outlet for students to get more involved in them.
"We operate under the umbrella of science, so it's important that they think of themselves as scientists and mathematicians," she said.
Mowry said since the first STEM Week, in March, students have been more interested than ever in math and science.
"They love it, and they can't wait to get down there on their day," she said. "The fourth-graders walk by the gym door and say, 'Is it Friday yet?'"
Gretchen Fernstrom, a second-grade teacher, said her class has responded well to the STEM event.
"It's wonderful to see them having fun while learning," she said. "They don't even realize they're learning something they will use later on."
Fernstrom said presenting math and science this way to young students helps them view those often difficult subjects less negatively.
"If the children are having fun, they're more likely to go into a classroom setting and approach the subjects in a positive manner," she said.
Two of Fernstrom's students, Gabriella Smallwood and Elyse Snyder, both 7, said they had a blast during their hour of STEM on Thursday.
Gabriella said she liked all the activities and learned many things.
"I like that you get to learn stuff, and I learned what sticks to magnets," she said.
Elyse said her favorite experiment was the observation table, where children were able to look under a microscope at everyday items such as dollar bills, newspapers and feathers.
"I learned today that there are finger prints on dollar bills," she said. "I think it's fun to observe stuff."
Mowry said the most important thing for students to take away from the event is that STEM learning doesn't end when the week is over.
"As an educator, we always want to make the connection to the real world so they can be excited about it and see that everything we do in school does fit into their bigger picture," she added.