Cara Hardenbrook | Ryan Nyardy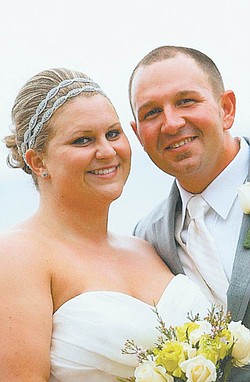 Photo
Cara Hardenbrook and Ryan Nyardy
GENEVA, OHIO
The Lodge at Geneva on the Lake was the setting of the 5:30 p.m. June 29 wedding ceremony for Cara Beth Hardenbrook and Ryan Nyardy, both of Columbiana. Sara Drew, the mayor of Stow, Ohio, officiated. A reception followed at the lodge.
Clint and Diane Hardenbrook of Columbiana are the parents of the bride and Nick and Joyce Nyardy of Salem are the parents of the groom.
Rachel and Lauren Hardenbrook, sisters of the bride, were maids of honor. Bridesmaids were Kristin Detwiler; Tori and Anna Hardenbrook, cousins of the bride; and Erin McGarry. Hannah Detwiler was the flower girl.
Performing the duties of best man was Greg Bosela. Groomsmen were Ryan Martino, Joe Moon, Jarod Bullen, Steve Masden and Jared Mott. Dylan Nyardy, the groom's son, was the ring bearer.
The bride received a bachelor's degree in special education from Ohio State University. She is an intervention specialist at David Anderson High School, Lisbon.
The groom is owner and regional landman for Buckeye O&G LLC.
After a wedding trip to Riviera Maya, Mexico, the couple resides in Columbiana.