Canfield bedevils Tallmadge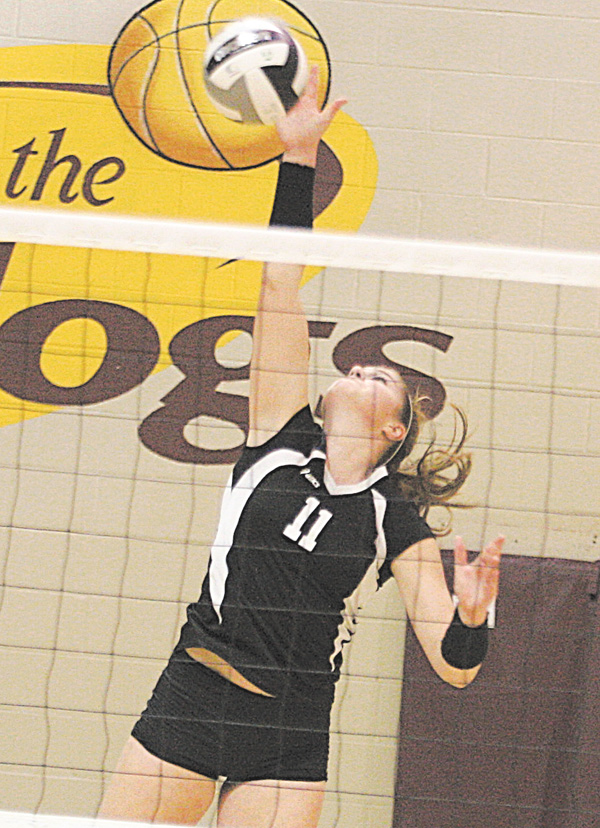 ---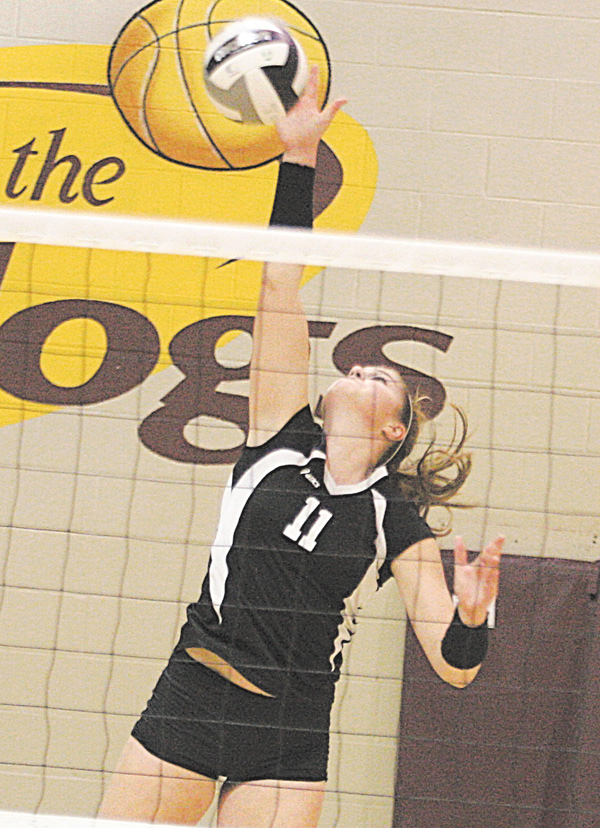 Photo
Canfield's Sabrina Mangapora prepares to spike the ball during the Division II regional volleyball semifinal against Tallmadge on Wednesday at Stow-Munroe Falls High School. The Cardinals defeated the Blue Devils, 3-1, to advance to Saturday's regional final against Cleveland Heights Beaumont.
The Cardinals drop first game before rallying
By Ed Puskas
Stow
Canfield's season was on the brink. The Cardinals had spotted Tallmadge the first game of the Division II regional semifinal match and trailed the second game 20-10.
It didn't look good, even to first-year John Tokash.
But the veteran of five decades of volleyball as a player and coach collected his players and delivered a simple message.
"I told them, 'Even if we don't win this game, we need to get some momentum going into the third game,'" Tokash said.
The Cardinals did more than just get a bit of momentum. Libero Rachel Rafoth and outside hitter Sabrina Mangapora took over late in the second game and Canfield used a 15-1 run to win the game, seizing control of the match, and went on to stun the Blue Devils in four games, 22-25, 25-21, 25-18 and 25-14 at Stow-Munroe Falls High School.
"We just started playing as a team," said Janie Rafoth, who led Canfield (23-3) with 24 service points. "We were playing as individuals in the first game and the first part of the second one."
Tokash said the Cardinals' regional experience last season helped keep them in the match when the Blue Devils seemed poised to deliver a virtual knockout blow.
Mangapora agreed.
"We've been here before and seen this before," she said. "The same thing happened in the district championship. Our attitude changed. We were nervous in the first game and then we just started playing Canfield volleyball."
The Cardinals' recovery came through the methodical disposal of Tallmadge (13-14) with a collective effort, but there were several star performances.
Janie Rafoth, in addition to a dominating service effort, set up Mangapora and Nicole Luklan with 20 assists. Mangapora, a senior co-captain, had 14 kills and five blocks. Luklan, another senior co-captain, had five kills, a block, 14 points and 10 digs.
But it was the relentless play of Rachel Rafoth — Janie's twin — that swung the match in Canfield's favor.
Time and again, Rachel sacrificed herself to keep the ball alive against huge spikes by Tallmadge hitters Emma Mathieson, Briana Burgan and Meryl Wiebrecht.
"They were pounding them at her and she kept sending them right back at them," Tokash said.
Rachel finished with 42 digs and often had multiple digs in the same sequence. Her ability to keep plays alive buoyed her teammates and frustrated the Blue Devils, who wore down as the match progressed.
Tallmadge made few unforced errors in the first game and most of the second, but its inability to get spikes past the diving Rafoth eventually cost the Blue Devils the match.
"You have to go out and play every point like it's the last point and make a move for everything," Rachel said. "You never know what you can get. If you make a move, you might be able to get a hand on it."
Canfield will meet Cleveland Heights Beaumont in a regional final at 7 p.m. on Saturday. Beaumont outlasted Mentor Lake Catholic in five games in Wednesday night's first semifinal.