Poland vs. Keystone: 'No surprises'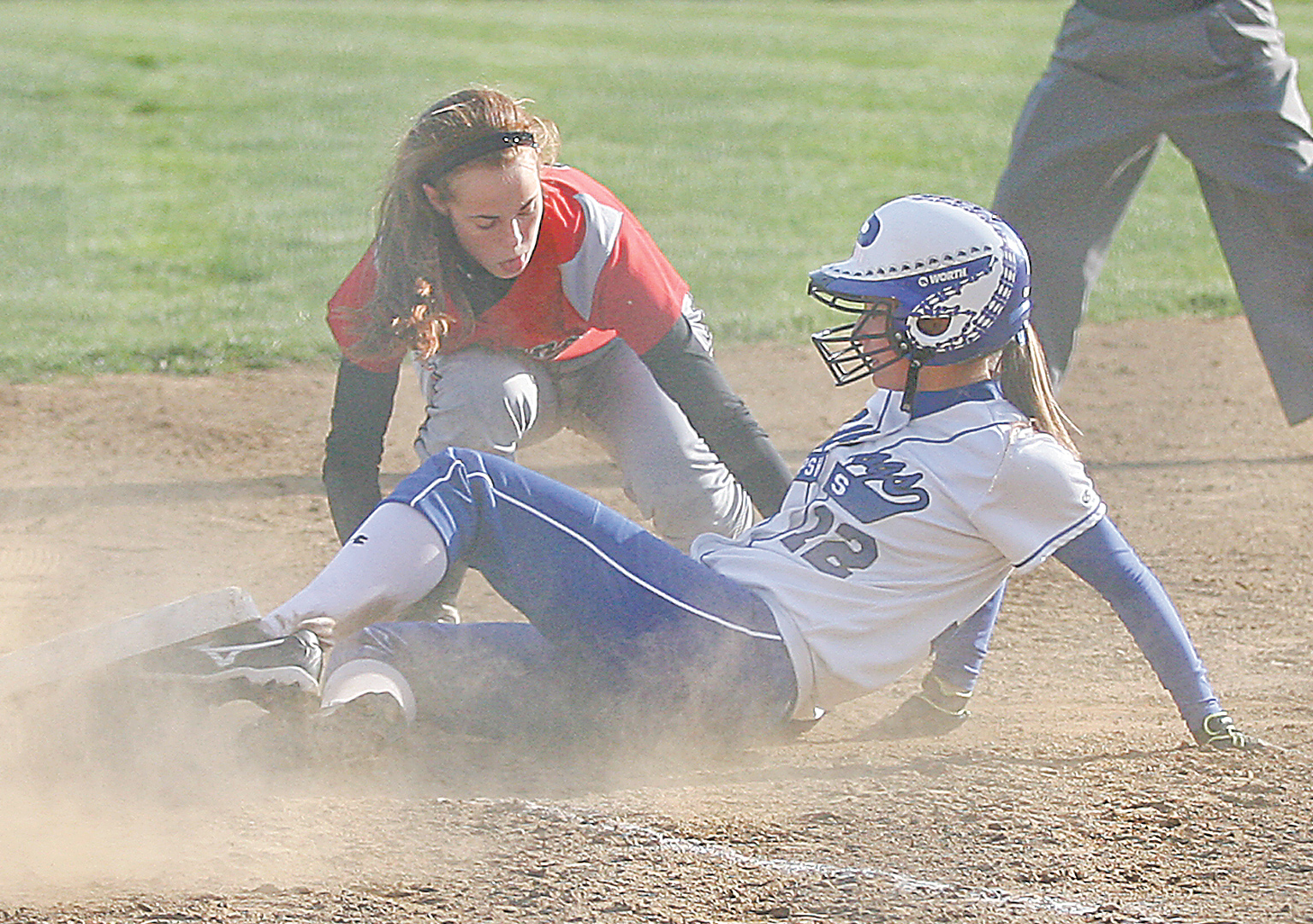 Photo
The Poland softball team is making its third straight trip to state — its fourth in school history. The Bulldogs lead-off batter Marissa Trevis (12), above, has a .475 batting average and is hitting .593 with runners in scoring position.
Bulldogs know their semifinal opponent
By Tom Williams
POLAND
Last June 4, the Poland High softball team's 4-0 victory over LaGrange Keystone gave the Bulldogs their first state championship and left a sour taste in the Wildcats' mouths.
Friday at 12:30 p.m. at Akron's Firestone Stadium, the Bulldogs (27-2) and Keystone (30-0) will face off again in a Division II state semifinal for the ages.
"We'll be ready," said Poland coach Reid Lamport after the Bulldogs defeated Akron Hoban, 7-0, in last Saturday's regional final. "I don't think either team is going to have any surprises.
"We know how good they are and we respect their program," said Lamport of Keystone which is making its 13th state appearance.
"They know how good we are — we're going to give it our best shot."
Keystone, which was voted No. 1 in the state coaches poll, hasn't lost since Poland's Erin Gabriel tossed a one-hitter in that championship game.
They've survived a scare, though.
In last week's regional semifinal at Bucycrus, the Wildcats trailed Bellville Clear Fork (20-11) 4-1 in the fourth inning before rallying for a 7-5 victory.
In the regional final, Keystone pounded Lima Shawnee, 11-1, registering 16 hits. Four were for extra bases. Taming the Wildcats' lineup will be a challenge.
"I think we're the two teams who have worked the hardest," Poland senior third baseman Jenna Modic said. "They are a solid team, they have a nice defense and a nice pitcher."
Keystone's senior shortstop Erin Pond was unstoppable in the Wildcats' last game. Her four hits included a lead-off home run in the first inning. She scored three times.
Senior pitcher Kenzie Conrad (23-0) also had four hits. Three were doubles and she drove in three runs.
Conrad was the losing pitcher in last year's state title game.
"She's an outside pitcher, she throws a lot of curves and drops," Poland senior shortstop Kalie Benson said.
Senior center field Maura Bobby expects to see "a lot of curves low — she has a lot of movement on the ball and does a very good job of hitting her spots."
Modic, who also pitches, said the Bulldogs haven't faced many pitchers this season with Conrad's style.
"She's more of a dropball pitcher and she likes to keep it away," Modic said. "We've had some pitchers who like to throw outside, but she has some pretty good movement on her ball.
"We'll just have to stay down on the ball and not try and pull off of it," Modic said.
The Wildcats will be tested by Gabriel (16-1), a University of Tennessee recruit and member of USA Softball who has surrendered three runs in five postseason games. Poland's only close call in the postseason was a 3-2 win over Woodridge where Gabriel threw a one-hitter.
Gabriel's earned-run average is 0.54. Opponents are batting .086 against her.
Poland's schedule has been impressive. The Bulldogs' losses were to Florida's Palm Beach Gardens (at the time ranked second nationally) and Elyria (26-2), which finished third in the Div. I state poll.
The No. 2-ranked Bulldogs also own a 10-1 victory over Elyria as well as victories over two other Div. I state qualifiers — North Canton Hoover (27-3, first in the coaches poll) and Lebanon (30-1, second).
"We're here by design — it's been our plan," Lamport said.
Poland is making its third straight trip to state and fourth in school history.
"It's amazing because people usually don't even get there once and to have it three times — words can't even describe it," said Bobby who has a .361 batting average. "It's just a great feeling."
Bobby remembers how boisterous the crowd was at last year's game.
"The atmosphere — there were a lot of fans there, you could feel the energy," Bobby said. "We're pretty big rivals."
Modic, who bats third, leads the Bulldogs with a .500 batting average. She's struck out twice this season.
Gabriel, in the cleanup spot, is batting .441. Sophomore first baseman Taylor Miokovic, who hits behind Gabriel, has a .385 batting average with 50 RBIs and 11 homers.
Lead-off batter Marissa Trevis has a .475 batting average and is hitting .593 with runners in scoring position.
Catcher Meredith Testa, who bats second, has a .364 batting average but compiled a .636 average in Poland's last three games.
"I feel very blessed to be here again, I am so very excited," Benson said who has a .358 average.
Modic described the return to Akron as "awesome.
"Everyone's goal is at least make it to one state appearance and for us to have the opportunity to make our third is just so special," the Miami (Ohio) recruit said. "It just shows all the hard work that we've put in."