Houser says his life will never be the same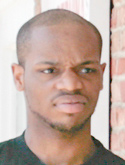 ---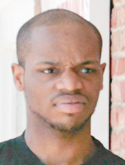 Photo
By JOHN W. GOODWIN JR
YOUNGSTOWN
After spending more than two years in the Mahoning County jail on a capital- murder charge, Jamar Houser said the publicity centered on the now-dismissed case has ruined his life and family name.
Houser had been charged with the Jan. 23, 2010, murder of Angeline Fimognari, 80, of Sheridan Road, in the parking lot of St. Dominic Church on the South Side. Fimognari was shot in the head. Her purse was missing, leading police to believe she was a victim of robbery.
Last week, prosecutors announced a palm print left at the scene indicates that another man committed the crime. That man was murdered in 2011.
Houser had been held in the Mahoning County jail since a few days after the murder.
The 21-year-old freed man walked into his attorneys' office in Boardman on Wednesday wearing a pair of jeans, a T-shirt and a very large smile. He was accompanied by his mother, Frances Cianciola, who attended each court hearing during the last two years and has always said her son is not the person who killed Fimognari.
Behind the smiles and excitement over being free, however, is the fear that his life, and the lives of those closest to him, have been forever changed.
"My life will never be the same again. Everywhere I go I see people pointing or pointing and saying stuff, so they have messed that up. It will never be the same," he said. "They messed up my family name."
Houser said he will never be able to get back the time he spent in the county jail or the stress related to attending court hearings knowing his life was on the line, but he wants the public to understand that he is completely innocent.
"I just want everyone to know that I didn't do this and that I am innocent. I was and I am still innocent," he said. "They need to stop holding people just on hearsay and start using actual physical evidence. ... I thought about that a lot while I was in there [county jail]."
Houser said he was offered a plea deal while sitting in the jail but said he could not accept a deal for something he did not do.
"For me this was all or nothing. I felt like I was fighting or my life," he said.
As for county prosecutors and the police officers investigating the Fimognari murder, Houser says he is entitled to some form of verbal admission that they were wrong.
"I deserve an apology for this because they took me through a lot of emotional stress and everything," he said. "It is really crazy because it was just a bunch of mental and emotional stuff."
The apology may not be the only thing Houser is seeking. He said he seriously is considering some type of legal action against the county but has not explored exactly what his options are.
The defense attorneys handling the criminal case, John Juhasz and Lynn Maro, are not likely to handle any civil action against anyone involved in the case, but Houser said he has spoken to other attorneys.
Before any more court appearances or further legal filings, Houser said he just wants to spend some time trying to get his life back on track. He said he plans to attend classes to obtain his GED and go into the heating and cooling business.
"It feels really good to be back home," he said. "I am about to go back to school and try to get a job and just get everything back on track."
Houser said he may consider relocating once he has his affairs in order.
Juhasz said prosecutors knew early in the investigation that the palm print on Fimognari's car did not belong to his client, but Houser was held on the hearsay testimony of an unnamed man who was considered a suspect early in the investigation. He said the general belief always was that Houser was innocent of the crime, but he was still concerned about the prospect of putting the case before a jury.
"We thought the evidence in this case was pretty pitifully thin, but you cannot overlook the fact that an innocent 80-year-old lady was shot in a church parking lot after attending Mass. That is going to tick anybody off," he said.
Houser did say he hopes the Fimognari family finds closure and that police can wrap up the case in her death.
Maro called the case against Houser a textbook example for the abolition of the death penalty iwn Ohio.
"They had nothing to connect him to this crime. None of the physical evidence. None of the scientific evidence. Every step of the way, everything they got kept ruling him out, but they kept pursuing it," she said. "They were willing to execute someone on circumstantial evidence. ... I think the death penalty should require something more than a circumstantial case."