Destinee Snyder is YCS' first state track qualifier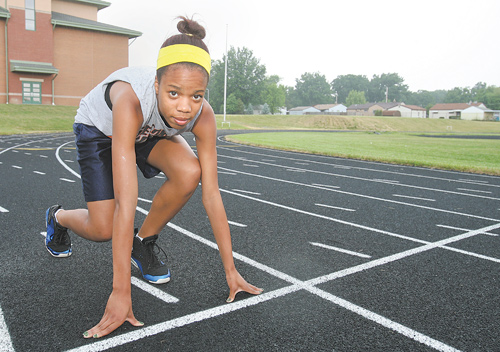 ---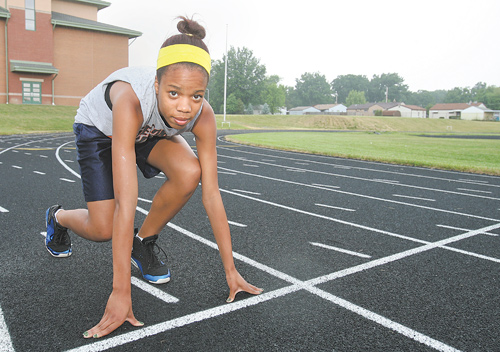 Photo
Youngstown Christian School's Destinee Snyder never ran track before this season and only joined the program after her AAU basketball season was canceled. This weekend, the 14-year-old freshman will be the first student in YCS history to compete in a state track meet. Snyder's event is the 400-meter dash, in which she won a Division III district title and ran for a fourth-place finish in the regional meet to qualify for state.
Destinee Snyder is YCS' first state track qualifier
By Joe Scalzo
YOUNGSTOWN
The first state track qualifier in Youngstown Christian history originally planned to spend this spring making baskets, not history.
Destinee Snyder, a freshman who broke into the starting lineup for the varsity basketball team this winter, had never run track before this season and only joined the team after her AAU basketball season was canceled.
"I've played basketball my whole life," she said. "I figured I would stay in shape running track."
Snyder ran all three dashes this season, "but we kind of knew [the 400] was her race," said YCS coach Ron Voitus. "Every time she ran it, she seemed to PR [set a personal record].
"She kept getting better and better and better."
After winning a district title in the 400 in 1:00.10, Snyder entered the 400 final at last weekend's regional meet with the seventh-fastest time in the field, which put her in Lane 8.
"She asked me at the regional how to run in Lane 8," said Voitus. "I told her keep the girls out of your eyesight. If you see a girl in your peripheral vision, start pushing."
Voitus figured she would need to run in the low 59s to advance. She ran a 59.05 to finish fourth, edging Martins Ferry sophomore Sarah Applegarth by two-hundredths of a second for the final state qualifying spot.
When asked how she felt after advancing, she said, "I felt excited but I was so tired. It didn't look like I was happy but I was inside."
Voitus started YCS's varsity track program three years ago, building it from 11 athletes in its first year to 30 this year (19 boys, 11 girls). The school doesn't have a track, so they practice in the hallways, on the street and, occasionally, at other high schools. ("People sometimes ask the kids how we practice and they tell them we run the streets," Voitus said. "I'm not sure that's such a good saying for a Christian school.")
Voitus added a middle school program this year and expects the program to keep growing, especially after having his first athlete break through to state.
"I don't think she realizes what she's accomplished," he said. "We still don't know what her plateau is.
Snyder is hoping to medal this weekend, which would require her to finish in the top eight. (She's seeded ninth.)
Voitus thinks she's capable.
"She's a natural runner," he said. "She's one of those athletes with a great future for herself."