EGCC president: Downtown gives us room to grow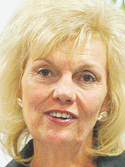 Photo
By Denise Dick
Youngstown
Even with a new, larger facility in the city's downtown, Eastern Gateway Community College expects to outgrow it within five years.
That's one of the advantages of being downtown, said Laura Meeks, the college's president.
When EGCC's Valley Center outgrows its quarters in the Plaza Place building, it can expand into other buildings downtown, she said.
The new location is necessary because the college keeps growing, Meeks said.
"We've been doubling our enrollment every semester," she said.
Eastern Gateway has been working for about a year with Higher Education Partners-EGCC Ohio to secure a permanent Mahoning Valley location.
HEP will be responsible for the build-out of the project as well as building operation and maintenance under the contract.
Eastern Gateway will handle all academic decisions, and the college and HEP will make joint decisions on marketing and promotional events.
Higher Education Partners will ensure there are sufficient funds to cover 105 percent of the college's direct expenses for the project. HEP will then be able to recover its costs and overhead, plus a 15 percent service fee, from any net revenue coming from Valley Center operations.
While many colleges and universities have seen their enrollments level off, EGCC is increasing.
Between 2010 and 2011, EGCC realized an 11 percent increase, the largest of Ohio's community colleges.
EGCC's first Valley Center opened in 2009 in the former Northside Medical Center on Gypsy Lane. As more students enrolled, additional classes were offered at the Jewish Community Center, but it ran out of space there, too.
This year, the college opened on the fourth floor of Choffin Career and Technical Center.
EGCC will continue to offer classes at Choffin, the career and technical centers in Mahoning, Columbiana and Trumbull counties and its Warren facility.
"Our future plans include looking at expanding in Trumbull County," Meeks said.
Renovations, estimated at between $1.5 million and $2 million, begin Friday. Classes are expected to begin in the new location in August.
USA Parking, which owns the building, will retain ownership. Mahoning County property-tax records show the building is in foreclosure.
Lou Frangos of USA Parking said the college will occupy the portion of the building where MYCAP, which moves out at the end of the month, is as well as the section that's empty. Cafe Cimmento will remain.
Cynthia Anderson, Youngstown State University president, said YSU has been working closely and plans a meeting among academic deans and EGCC representatives to determine programs for which to develop articulation agreements. Those agreements will map out a smooth transition from EGCC to YSU.
"I believe in community college education," Anderson said. "Community colleges have the unique opportunity to provide students with the skills needed for here and now jobs. That is the role Eastern Gateway is taking on."
Meeks said that EGCC isn't looking to compete with YSU. The college wants to attract people who likely wouldn't attend YSU or another four-year institution. Completion of a two-year degree, though, may encourage those people to continue their education at YSU, she said.
Anderson agreed.
"I don't know that we look at Eastern Gateway as any kind of a threat," she said. "They're our partner in education."
She acknowledged, however, that EGCC's expansion could affect YSU enrollment in the short term.
"It would seem that comprehensive universities who have a community college open near them sometimes do experience enrollment decline in the first few years, but they tend to be make it up later on," Anderson said.
The Alliance for Congregational Transformation Influencing Our Neighborhoods, or ACTION, rallied for two years for a "bricks and mortar" EGCC facility in the Valley. "Some people said we were crazy," said Rose Carter, executive director of ACTION. She said that a full-fledged facility will be an economic engine, and while YSU is a great institution, it's not for everyone, Carter said. "We're very excited."
Mayor Charles Sammarone said the announcement is good news for the city.
Bringing 1,000 students downtown will provide an economic boost as they patronize downtown businesses.
That could encourage more development, mayor said.
More like this from vindy.com