YMHA completes $10M renovation of Brier Hill housing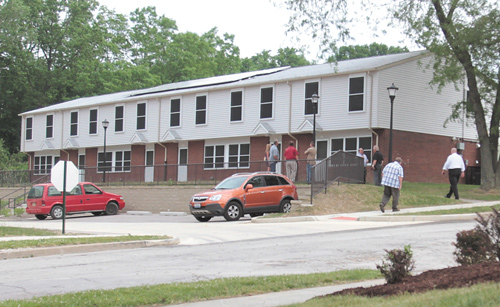 Photo
Dignitaries conducted a ribbon-cutting ceremony Tuesday at the Youngstown Metropolitan Housing Authority's 76-unit Brier Hill Annex apartment complex, which has undergone a nearly two-year, $10 million federally funded renovation.
By PETER H. MILLIKEN
milliken@vindy.com
YOUNGSTOWN
Michelle Nieves expressed gratitude for the new features of the Brier Hill Annex apartment she moved into Tuesday, especially its central air conditioning.
"Oh, my gosh. It's beautiful. Everything is brand new. There are new appliances. There's more space (than in her previous annex apartment) and there's central air," Nieves said. "I can't wait to get in there," she added.
Her belongings were in a truck outside her apartment, ready to be moved in, immediately following a Tuesday ribbon-cutting ceremony at the door of her apartment at 2779 Hammaker St. in the newly renovated complex.
Nieves, who will live in that apartment with her children, Tamara, 11, Angel, 6, and Marie, 1, lived on East Dennick Avenue on the city's North Side during the annex's nearly two-year, $10 million renovation.
Neither her previous annex apartment, nor the Dennick location, had air conditioning.
The abbreviated outdoor ceremony moved indoors to Nieves' new apartment due to inclement weather late Tuesday morning after Nieves and dignitaries cut the ribbon at the Youngstown Metropolitan Housing Authority complex.
Residents began returning to the 76-unit, 1962-vintage apartment complex on May 17, after the renovation designed to turn the complex into a green, energy-efficient community.
During that renovation, which was paid for by federal stimulus funds, rooftop solar panels were installed, which are capable of supplying 25 percent of the development's electrical needs.
Other new features include new insulation, new windows and doors,
recycled-content Formica counter tops, tankless water heaters and low-flow, water-conserving faucets and toilets.
"Ten million dollars of federal money has come back to this community and put people back to work and improved the quality of life in the city of Youngstown," said U.S. Rep. Tim Ryan of Niles, D-17th.
"The city of Youngstown is on the move, and it is becoming a destination place" for economic development, he said. "These investments are necessary for us to continue" that progress, Ryan added.
Carmelita Douglas, YMHA executive director, said the authority has documented to the U.S. Department of Housing and Urban Development that the renovation created 18 jobs and retained 27 jobs.
"We were able to take an antiquated, nonefficient — as far as energy — development and turn it into a brand new green community," she added.
"Anything we can do for our old neighborhoods to bring them back, I've always supported," said Mayor Charles Sammarone.
The authority here and the Cuyahoga Metropolitan Housing Authority in Cleveland were the only two public-housing authorities in Ohio funded by the competitive grant program.
The annex grant here was part of a $300 million stimulus-bill-funded package of green-energy grants to 36 public housing authorities nationwide.
More like this from vindy.com