Mike serves burgers with the best of Puck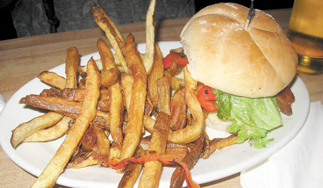 ---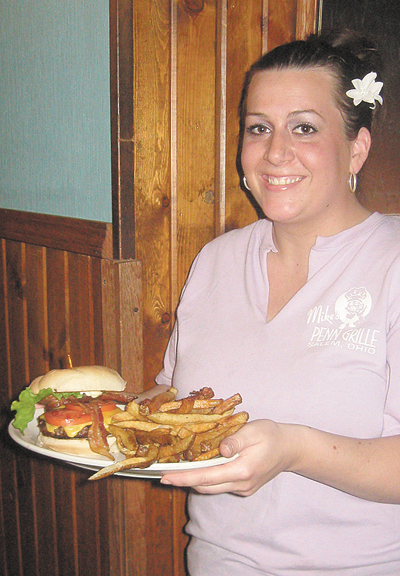 Photo
Jackie Metzgar serves up a gourmet burger to the Burger Boys at Mike's Penn Ave. Grille.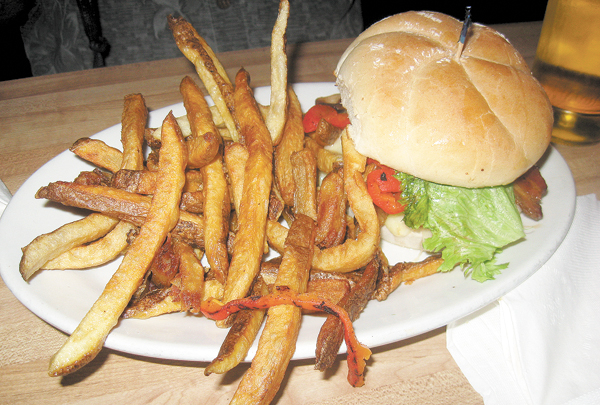 Photo
The Dagwood Burger, modified with roasted red peppers and bacon at Mike's Penn Ave. Grille in Salem.
When You Go...
Where: Mikes Penn Ave Grille
599 East State St
Salem OH 44460
Phone: (330) 332-4804
Hours:
M-W: 12 pm - 11 pm
Thu: 11 am-1 pm, 5 pm-11 pm
F-Sa: 11 am - 12 am
Su: 11 am - 9 pm
Menu:
2 burgers ($6.99-$7.25), plus a different burger each day on the lunch menu
Website:
Email: contact@mikespenngrille.com
By Anthony M. Fuda
Every student aspires to be better than their teacher. But what do you do when your teacher is world-renown chef Wolfgang Puck?
That was owner / head chef Mike Cranmer's dilemma. So, what he did was open Mike's Penn Ave Grille in 2004, and great success followed.
We arrived with high expectations from the Wolfgang Puck certified chef, and we were not disappointed. The restaurant specializes in steak and seafood dishes, but we had our sights set on the burgers. The regular menu offers only two half-pound Angus burgers, served on a Kaiser bun and complemented with a nice portion of thick fresh-cut fries; The Bleu Cheese Burger, with portabella mushrooms and melted bleu cheese; and the Dagwood, with American cheese, lettuce, tomato and onions. But the lunch menu features a different burger every day. Some of the lunch specialties, and the three most requested, are: the Lava Burger (jalapeno peppers, provolone cheese and a hot sauce blended with eight different peppers), the Seaman Burger (egg, bacon, ham, grilled onions, cheddar cheese, bistro sauce, lettuce and tomato), and the Weav (Heinz 57, cole slaw, bacon, ham, Swiss cheese and fries). These lunch burgers aren't just for lunch, you can order them any time of day.
We also found a great little-known secret. You can build your own gourmet burger with everything from roasted red peppers to bacon to BBQ sauce, and all toppings in between. Mike says, "If we have it in the kitchen, we will make it for you."
After hearing we could make our burger any way we wanted, or order any of the lunch burgers, we did just so. Our waitress, Jackie Metzgar, dealt with our eccentricities and still took care of us throughout the evening.
The Weav is named after restaurant regular Darrin Weaver who ate four burgers and asked for a fifth. Mike said if he finished the fifth, the burger would be named after him.
For the adventurous, Mike's has a challenge burger, which is a 6 lb. version of the Weav, with a one hour time limit. Eric was licking his chops, but decided he would relax tonight and enjoy his meal.
The burgers arrived, and we each did our standard "taste test," taking a small bite of just the beef to see how the flavor is and if each burger is cooked correctly -- and the burgers passed with flying colors. The fresh ground beef has a great flavor and the Kaiser buns were firm, yet fluffy enough to keep the tasty juices inside.
Scott said, "The beef was seasoned well and the flavor was throughout the entire burger." JT went with a modified Dagwood, and said "Even though there are only a couple of burgers on the menu, the available toppings seem endless. The roasted red peppers, crisp bacon and Swiss that I added to my burger gave it a gourmet flare that was very enjoyable."
I had the Lava Burger and enjoyed the spicy jalapeno peppers with the eight pepper hot sauce blend. It was just tangy enough where you could taste the heat but not be overwhelmed by it. Whatever Wolfgang taught Mike, it was working, as evident by each patron who walked through either saying hello or stopping to talk to him.
When asked what he took from training under Wolfgang Puck, Mike said two things stood out, that "You do this (cooking) for the people, seeing them appreciate it - and Wolfgang's very own chef knives." Before his final task at the academy, Mike went to his locker to get his supplies, only to find his knives were stolen. Wolfgang walked by and Mike told him what happened. A little later Mike was called to Wolgang's office. Preparing for the worst Mike walked in, where Wolfgang handed Mike his personal set of chef knives and told him to do well-- which he did by finishing in the top three in his class.
While Mike's Penn Ave Grille is known for the daily fresh seafood and steak specials, the burger takes no back seat - especially when you can tailor it to your own liking. 4 stars Email mvbrb@hotmail.com to keep us updated on where you think we should go next.
More like this from vindy.com