Eastern Gateway moving to downtown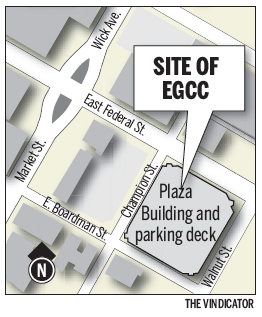 ---
By DENISE DICK
denise_dick@vindy.com
YOUNGSTOWN
Eastern Gateway Community College will offer classes this fall in the city's downtown.
The college is moving its Valley Center into the Plaza Building at the corner of East Boardman and Champion streets. Renovations begin Friday with classes set to begin in August.
EGCC officials are to announce the move and more details on it at a news conference at 2 p.m. today at the Youngstown Business Incubator downtown.
The lease-location announcement comes from EGCC President Laura Meeks and Higher Education Partners-EGCC Ohio, its partner in the venture.
"We're tremendously excited about the opportunity to solidify our presence in downtown Youngstown," Meeks said in a news release.
"Our goal has always been to offer affordable and accessible higher education to the Mahoning Valley residents. We continue to work to prepare students for the work-force needs of the region as well as preparing students to transfer to a four-year college or university. We're enthused about our partnership with HEP and the expanding opportunities we will have with this new venture."
Work to secure a permanent Valley Center location began about a year ago.
The center opened in 2009 in the former Forum Health Northside Medical Center on Gypsy Lane, and then moved this year to the fourth floor of Choffin Career and Technical Center on East Wood Street.
The lease between the college and the city school district, which owns Choffin, expires June 30, 2013.
The college plans to continue its partnerships with the area's four career centers, officials have said, but additional space is needed to accommodate burgeoning enrollment of Mahoning Valley students.
The college's enrollment in Columbiana, Mahoning and Trumbull Counties grew from 174 in fall 2009 to 813 in spring 2012.
EGCC also offers classes in its Warren Center in the Atrium Building in downtown Warren.
The agreement between Eastern Gateway and HEP-EGCC Ohio, LLC is the second of its kind in Ohio — the first was with Cincinnati State Technical and Community College.
It is a public-private partnership that makes the college responsible for academic operations while putting HEP in charge of building renovations and some operational aspects of the project.
A bricks-and-mortar facility in the Mahoning Valley is something that the Alliance for Congregational Transformation Influencing Our Neighborhoods, or ACTION, has been advocating since EGCC began offering classes in the community.
The group delivered petitions with 5,000 signatures advocating a Mahoning Valley EGCC location to the former Ohio chancellor and has met more recently with other state and local officials.
ACTION members have said that having a fixed location is important for the area's economic development.
More like this from vindy.com