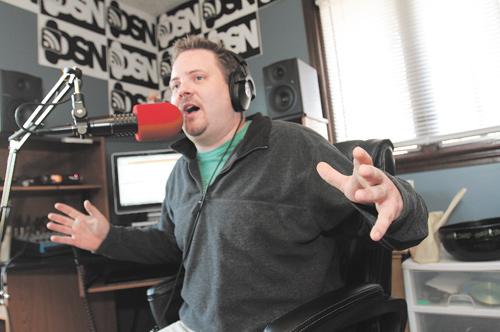 Photo
After spending 10 years at WDJQ-FM in Canton, Patrick DeLuca now broadcasts from his Alliance home on The DeLuca Show Network, an online radio station that he and former WDJQ co-host Charlotte DiFranco started in February.
By Karl Henkel
ALLIANCE
A former terrestrial radio show has taken its act online and is now thriving.
Patrick DeLuca and Charlotte DiFranco, former hosts of "DeLuca In The Morning" on adult-contemporary station WDJQ-FM in Canton, have in three months started not one but two full-fledged Internet radio stations and show no signs of slowing down.
Their stations, now heard online and via multiple smartphone apps, are heard by thousands of listeners from more than 50 countries, including many who followed the duo after their highly publicized exit from WDJQ after six years in the morning-drive time slot.
And though terrestrial radio stations, like all forms of media, struggle with declining advertising revenue and plummeting listenership, DeLuca and DiFranco, both Northeast Ohio natives, have found a medium free of corporate mandates and Federal Communications Commission governance. Also, this is a medium that is actually growing in listeners.
Their adventure, which has lasted all of three months, is far from complete but already has put the duo in the spotlight of a landmark court ruling.
Their mission: to bring their original radio content to a greater audience.
IN THE COURTROOM
DeLuca and DiFranco, who first teamed up in 2006, for years dominated the morning airwaves in Canton.
In the most recent Arbitron ratings, released in January, DeLuca said the show posted its best ratings ever.
But the show, which in its current state consists of DeLuca, DiFranco and producer Jason "Virgil" Pantera, could not come to a new contract agreement with WDJQ and parted ways with the station in early February.
The terms of their previous contract, like many in the industry, barred the duo from any on-air duties at terrestrial radio stations within 60 miles of the Canton market.
DeLuca and DiFranco, however, started their own radio station, available online at www.theradiosucks.com, broadcasting three live shows weekly during the past two months.
WDJQ sued the duo, claiming a one-year noncompetition provision survived the expiration of their contracts and prevented DeLuca and DiFranco from streaming any show on the Internet.
Atty. Steve Okey of the Canton-based Okey Law Firm, who represented the former hosts, argued the noncompetition language prohibited DeLuca and DiFranco only from running a business that was "the same or essentially the same as a commercial radio station."
"It's definitely a first-of-its-kind thing," said Okey. "I've found no cases like this anywhere in the country."
STARTING FROM SCRATCH
Eighteen days after leaving WDJQ, DeLuca and DiFranco started The DeLuca Show Network or "DSN," an online radio station that originally played local music and repeat shows of "DeLuca In The Morning."
Court battles, licensing fees and three staff additions later, the station — located in a bedroom inside DeLuca's split-level Alliance home — is live and local from 7 a.m. until midnight, Monday through Friday.
The hosts in other day parts are well-known names to those in Northeast Ohio, most notably Keith Hamilton, former program director at Canton mainstream rock station WRQK-FM, who hosts a show called "The Basement" from 7 p.m. to midnight weeknights.
Hamilton, however, recently moved from The DeLuca Show Network's pop-based station to its rock spinoff.
"We want people to listen to us," DeLuca said. "Whether it's top 40, rock, country, classics, easy listening, news/talk — we're building a network of formatic variety."
Hamilton and DeLuca, former competitors when both hosted during the same time slot more than six years ago, have bought into the idea of Internet-based radio, but it hasn't come without challenges.
"The big problem in making an Internet stream a success is being able to get it in the hands of your consumers," DeLuca said. "There's so much competition out there on the Internet."
BUILDING A NETWORK
The station recently inked a three-year agreement with TuneIn, a free listening service that features more than 50,000 radio stations.
TuneIn added the DeLuca Show Network in hopes of growing its original content base, though it admitted it sees the role of Internet radio a bit differently.
"We don't think this will completely replace terrestrial radio," said Ryan Polivka, TuneIn senior marketing manager. "We see it more as a compliment."
But the station acts like any other station.
DeLuca and DiFranco piped thousands of dollars into equipment and pay about $385 a month for the rights to an expanded playlist of about 3,000 songs.
The show is now podcast on iTunes, broadening the show's reach.
But there's still the question of monetizing the medium.
DeLuca acknowledges he'll only be able to charge a small fraction of the advertising rates charged by terrestrial radio stations.
But he says his currently unpaid staff of six is leaner than that of a terrestrial station, therefore eliminating much of the overhead.
"Everybody that I've talked to about this and everybody who knows that we're doing this agree that this is the new way," DeLuca said. "That's not in dispute. This is the way that everything is going."