Rescue attempt of man on I-680 bridge
Rescue at attempted suicide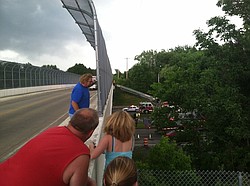 Video
Safety forces saved a man trying to jump from an I-680 bridge.
Safety forces from Youngstown, Boardman and the Ohio State Highway Patrol responded to a report of a person attempting to jump from the Thalia Avenue overpass across Interstate 680, around 6 p.m. today.

A fire truck was used to get close to the bridge to talk to the person.
It is not yet known if the person was talked down from the bridge.