Boardman rental policy to mirror Youngstown's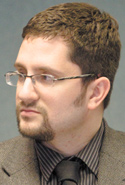 Photo
BOARDMAN
Township officials say instituting a rental-property registration program and updating the township land-use map will improve the quality of life in neighborhoods.
These changes can't start soon enough for some residents.
Andrea Payne lives on Shadyside Drive, and she and some of her neighbors voiced their concern about rental properties at a recent trustees meeting.
"We have an exploding rental issue — and a whole lot more rentals because of the economy. They aren't landlords but desperate homeowners who don't seem to have a problem renting to anyone and not taking care of the property," she said.
She said she likes most of the renters personally, but owners do not do enough.
"We've got great neighbors, but some of the landlords leave the houses in horrible condition, with gutters hanging off, for example," she said.
Administrator Jason Loree said trustees have given him a July 1 deadline to set up a rental-property registration program modeled after Youngstown's program. Loree said the township's attorney has advised tentatively that the township legally can institute the program because of its home-rule status.
The program would require rental-property owners to pay a fee for an annual license after completing an annual safety inspection. In Youngstown, the fee is $20 per unit. Inspectors would have authority to examine the inside of properties and make sure they're safe.
Township zoning inspectors can examine only the exterior of properties under current laws.
"We haven't gotten negative comments from residents about the idea and haven't really heard from landlords, but we're still in the process. As it becomes a reality by July 1, I'm sure we'll hear more from them," Loree said.
Vince Butler, of Butler Management LLC, owns 22 rental units in Boardman and said the inspection might be good for safety, but he doesn't think it's necessary.
"Until rental properties are paid off and rent increases, they are not really, really profitable. ... [The program] is not going to oppose me from buying more properties in Boardman, but that extra fee might have to be offset with raised rent," Butler said.
Butler said the program seems like "extra hassle" and that the township is looking for an additional way to generate revenue.
Loree said the fee will be used to cover or offset the cost of the safety inspector.
Zoning Inspector Anna Mamone said the registration process would help the township know who owns what properties and hasten resolution of property problems.
"We would be able to find property owners and communicate with landlords directly, to call them up and get things taken care of quicker than the letter process," she said.
Loree said the township will model Youngstown's program closely, and if the city makes changes, the township likely would adopt them. The township has about 5,300 rentals, about 30 percent of occupied housing units, according to the 2010 census.
Youngstown has two exceptions for registration: vacant properties and federally subsidized properties, which already are inspected by a government agency.
Carmelita Douglas, executive director of the Youngstown Metropolitan Housing Authority, said properties occupied by residents who are part of the Section 8 Housing Choice Voucher Program are exempt from the city's rental-registration program because YMHA inspects the properties when individuals move in or are recertified in the program.
"The difference is in public housing which we own and inspect, whereas the Section 8, we don't own the units," she said. "... The unit is not attached to Section 8, it's just the person who happens to be living there has a voucher."
There are 218 Section 8 vouchers being used in Boardman.
Boardman officials will need a little more time to make adjustments to the township's land-use plan.
Mamone said her office is working with Youngstown State University and Mahoning County employees who specialize in geographic information system (GIS) mapping to develop a working land-use map. The land-use map project began in 2008 during personnel changes, she said.
Once the township has a working land-use map, officials are interested in changing areas that are zoned R2 with single-family homes to R1. R1 restricts use to only single-family homes, whereas R2 allows for a single-family unit up to a sixplex, Mamone said.
If a single-family home is in a zoned R2, it could be turned into a duplex. That has happened in several neighborhoods, such as Applewood Acres, Mamone said.
"We want to make the remaining single-family homes R1 to protect them so they remain single-family homes," she said.
Those single-family homes that already have been converted to multifamily dwellings would be grandfathered under new land-use regulations, Mamone added.
The land-use change still has a long way to go before it's official, but it's important that the process is under way, she said.
"These are key points that affect the neighborhoods," Mamone said.