WATER, WATER, EVERYWHERE ... But enough for fracking?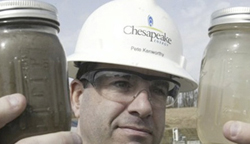 ---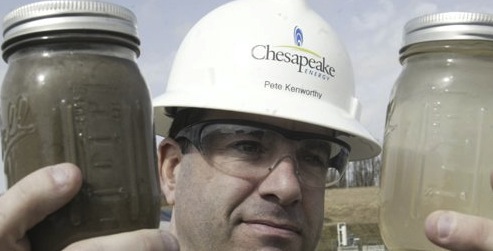 Photo
Pete Kenworthy, manager of media relations for Chesapeake Energy Corp., holds two jars of water. The first, on the left, contains produced water from the fracking process. The jar on the right contains treated water that will be reused at another well.
Youngstown
Despite the millions of gallons of water that will be needed for the fracking process, there are no concerns at this time about the quantity available in the Valley.
There is plenty of water available in Northeast Ohio for fracking operations if it is managed properly, said Mike Hallfrisch, manager of water inventory and planning for the Ohio Department of Natural Resources Division of Water. Drought conditions could impact the supply.
"If there was a fairly strong drought, there would be operators who would have to look at alternative supplies," he said.
Overall, this part of the state is fairly rich in surface water, and it has good and bad areas for ground water, Hallfrisch said.
The oil and gas companies are calling everywhere they can to make sure they know where water will be available, said Mike Wilson, executive director of the Trumbull Soil and Water Conservation District.
"That will be the next business available to residents. They'll be able to sell companies the water from old gravel pits," he said.
Wilson said he also does not anticipate problems with the available supply of water.
But until drilling begins in earnest and it is clear how much oil and gas is in the Utica Shale, it will not be certain how much water will be needed, he said.
Fracking companies have minimal options in Ohio for getting the thousands or even millions of gallons of water needed for the process. The first is to purchase the water; the other is, if the lease agreement allows it, would be to use surface or groundwater sources at the site, said Heidi Hetzel-Evans, spokeswoman for ODNR.
A Penn State University report showed that fracking a horizontal Marcellus well uses 2.5 million to 8 million gallons of water, typically within about a week.
Within the Marcellus region, between 60 percent and 90 percent of this water remains underground, where it is trapped within the shale formation itself, according to the Penn State report. The rest of the water that returns to the surface is potential waste.
Of the water used to frack a well, about 90 percent is fresh and 10 percent is reused from a previous frack job, according to the Penn State report.
In most cases, between 2 million and 6 million gallons of water is needed to complete hydraulic fracturing on a Marcellus or Utica shale well, according to ODNR. State law prohibits oil and gas companies from taking any water from the Lake Erie Drainage Basin.
ODNR also bans facilities from having new or increased consumptive use of more than 2 million gallons of water per day, averaged over any 30-day period, without obtaining a permit from the director of the Department of Natural Resources. SB 315, if it passes the Ohio House of Representatives as constructed, will require companies to state the source of water and how much they plan to use before drilling, Hetzel-Evans said
"One of the good things is Ohio is blessed with a lot of water," she said.
The Ohio Environmental Protection Agency has guidelines that limit how much water can be removed from surface or ground sources, said Edmund Kolodziej Jr., president of Aqua Ohio.
"The replenishing rate is determined by figuring out how much water can be taken without impacting the body of water," he said.
The Ohio Environmental Protection Agency is still looking into requests made to the city of Salem to sell water to fracking companies, said Mike Settles, spokesman for the EPA. The EPA plans to work with any city that wants to sell municipal water to oil and gas companies.
"The main concern the EPA has is any potential cross contamination," he said.
Municipal water sources that do sell to these companies will have separate filling stations for these commercial works, Settles said. The filling stations also will have back flushing to prevent contamination. This will occur if the water is potable or nonpotable.
There is no answer at this time regarding how much water a hydraulic-fracturing operation could take from a municipal site, he said.
With the abundance of water sources in Ohio, there is little chance that the water needed for fracking would impact the state even in drought conditions, said Jerry James, president of the Ohio Oil and Gas Association and the Artex Oil Co.
"There are 17 water-conservation districts in the eastern part of Ohio that are designed to keep southeastern Ohio from flooding," he said. "The worry we have in southern Ohio is too much water."
More companies will begin to recycle the fracking fluid they use. Chesapeake Energy already is recycling the fluid it uses, and other companies will follow suit, James said.
At least one area commercial company also is making plans to sell water to oil and gas companies.
Aqua has facilities in Mentor, Poland and Struthers that could be used to provide water to fracking operations in Northeast Ohio, said Kolodziej, at Aqua Ohio. The company also is looking at the possibility of adding water pipelines within the state, he said.
"When we did that within Pennsylvania, it eliminated a lot of the truck traffic," Kolodziej said.
Kolodziej is not concerned about the possibility of fracking companies needing so much water it impacts typical customers.
There are a number of municipalities throughout the state who are considering selling water, but it remains early in the process so few have made deals, Hetzel-Evans said.
Water withdrawals for fracking should not have an impact on the public. Ohio law requires that every landowner receive a "reasonable" amount of water, Hallfrisch said. Anyone who believes someone upstream, including an oil and gas business, could take their complaint to civil court.
Recycling brine water and other gains in technology could reduce the amount of water needed for fracking.
At this point, there is no state requirement that forces companies to reuse brine water, Hetzel-Evans said.
But the state allows only two options for fluids used within the process. The first is they can be reused; the second is they can be disposed of by a deep-well injection, she said.
"I'm hearing anecdotally that some of the larger companies are trying various methods to increase their recycling rate," Hetzel-Evans said.
Any amount of fluid that could be recycled would reduce the need for freshwater resources, she said.
Technology also could impact the amount of water used. There are some companies that are looking at the idea of waterless fracking, she said.