LOWELLVILLE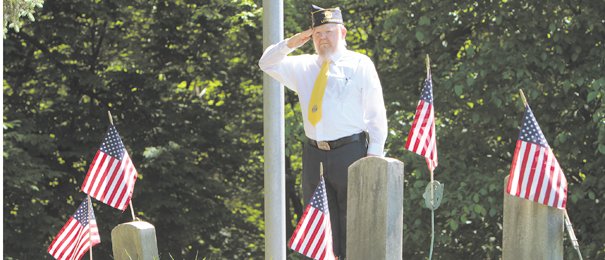 Photo
Seven deceased veterans, two with previously unmarked graves, will be the center of attention at American Legion Post 247's Memorial Day service at Poland Township Cemetery
Seven deceased veterans, two with previously unmarked graves, will be the center of attention at American Legion Post 247's Memorial Day service at Poland Township Cemetery.
The veterans are buried in a forgotten plot with 10 gravesites next to the cemetery flag pole, said Everett Oliver, Post 247 commander.
"They were forgotten for a while. But on Memorial Day, they will be remembered," he said.
Post 247's Memorial Day service begins at 10 a.m. at Holy Rosary Cemetery at Stewart Road and Badal Drive, and then will move down the hill toward Poland Township Cemetery, past where services were previously conducted, to the flagpole. The public and all veterans organizations are invited to participate.
The forgotten cemetery plot was rediscovered by Oliver, a retired Army sergeant 1st class with 22 years service, soon after he became post commander in June 2011.
"Being a retired sergeant, I wanted to know what I had to work with so I started to go through old files in the safe. What I found began an almost yearlong project," he said.
Oliver discovered the deed to Plot A 466 that was donated in 1935 to the soldiers and sailors of Lowellville. Over the years, the deed fell into the hands of the American Legion, but none of the past commanders remembered it. The last veteran was buried there in 1979, Oliver said.
He did a web search of Poland Township Cemetery and found that Plot A 466 had 10 gravesites, and seven veterans were interred there, all from World Wars I and II. But two did not have markers.
He and his brother, Roy Oliver, vice commander of Post 247 who served in the Navy during the Vietnam War era, and others from the post cleaned up the grave sites.
They enlisted the help of the Mahoning County Veterans Service Commission to locate discharge documents and death certificates and move the process through the U.S. Department of Veterans Affairs to get markers for the unmarked graves. Poland Township Cemetery personnel volunteered to install the markers.
The last resting places of Michael "Mike" Mendel, a WWI Army private, and Robert "George" Shipley, a WWII Army Tech 5, are now identified.
"Our Memorial Day service in Poland Township Cemetery will be held at these gravesites from now on. We will not permit our veterans to be forgotten again," Oliver said.