Gabriel's one-hitter has Poland playing for state trip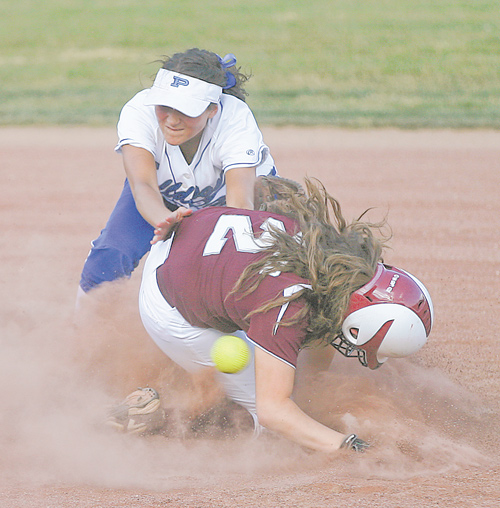 ---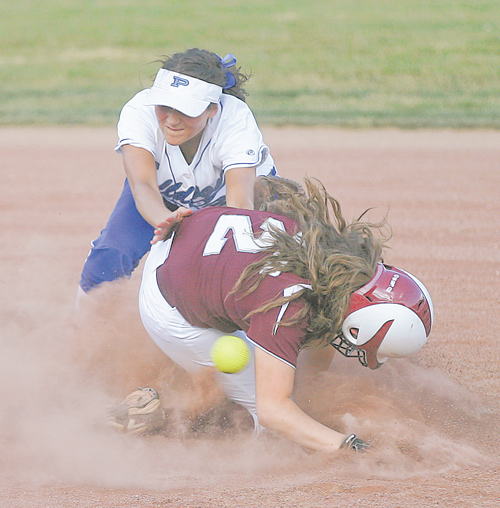 Photo
Kalie Benson (21) of Poland and Samantha Schneider (2) collide at second base during the sixth inning of their Division II regional semifinal softball game Thursday at Firestone Stadium in Akron. Poland held on to defeat Woodridge, 3-2, and advance to the final Saturday against Akron Hoban.
Gabriel's one-hitter has Poland playing for state trip
By Tom Williams
AKRON
The only hit Poland senior softball pitcher Erin Gabriel surrendered to Woodridge on Thursday turned a comfortable lead into a nail-biter.
But the University of Tennessee recruit wasn't fazed, retiring the final four Woodridge batters with three strikeouts and a defensive gem by first baseman Taylor Miokovic to preserve Poland's 3-2 victory on Thursday at Firestone Stadium.
"She really motivated me," Gabriel said after outdueling Woodridge's Amy Donze to earn Poland's fourth straight Division II regional title game. "I knew I had to bear down and not let them tie up the game."
With two outs in the sixth inning and the defending state champs ahead 3-0, Woodridge's Samantha Schneider hit a two-run single to right field, then stole second base. Gabriel ended the threat by striking out Meridith Chopka.
In the seventh inning, Miokovic hit the dirt to stop a ground ball then dove to first base just ahead of batter Allison King. Gabriel then whiffed Alexys Abdur-Rahim and Samantha Oesterle to end the game.
Gabriel's one-hitter included 12 strikeouts and three walks.
"Throwing a one-hitter against a team with 27 wins, you know you've accomplished something," Poland coach Reid Lamport said.
Gabriel benefitted from some sterling plays by her teammates. In the third inning, catcher Meredith Testa lunged to catch a foul pop-up and third baseman Jenna Modic made a diving snow-cone catch.
In the sixth inning when Woodridge (27-3) had runners at second and first, a fly ball dropped into left field where Marissa Trevis picked it up and erased Heather Schneider at second base.
"The defense did a great job," Gabriel said.
Donze (25-2) carried a perfect game into the fourth inning. Trevis doubled down the left-field line to ignite a two-run rally.
"I knew what to expect," said Trevis of Donze's changeup. "I was just waiting for it."
She took third on Testa's single, then scored on Jenna Modic's opposite-field hit to right.
"We didn't have our best hitting performance," Modic said. "We were looking at her riseball and chasing it. But once we started looking down, we started making contact on the ball."
Lamport credited Donze for a solid effort.
"We told the girls they've got to be more selective," Lamport said of the slow start. "Marissa did a great job staying back on that changeup.
SDLq[Donze has] got 350 strikeouts for a reason, she makes you chase balls that are unhittable," Lamport said.
In the fifth inning, Poland freshman Arlia Duarte doubled when left fielder Abdur-Rahim dove but couldn't hold on to a sinking line drive. Duarte took third after shortstop Erica Huntsman mishandled the ball and scored when Donze couldn't stop a spinning ball off Testa's bat.