Charges against Jamar Houser dismissed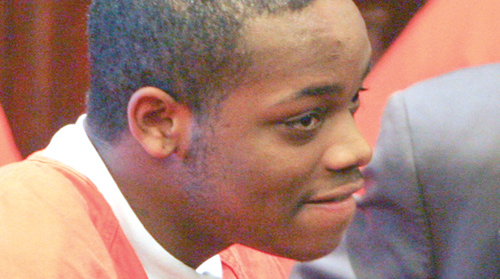 ---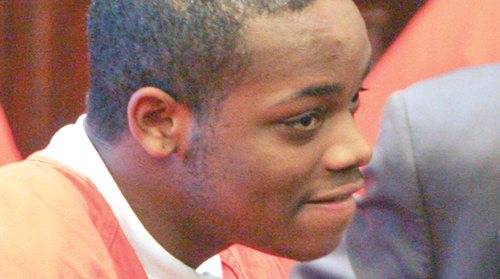 Photo
Jamar Houser, shown here during an appearance in Mahoning County Common Pleas Court, has been cleared in the January 2010 murder of Angeline Fimognari in the parking lot of St. Dominic Church on Youngstown's South Side. Houser still must answer to felony charges of shooting into a habitation unrelated to the Fimognari murder.
SEE ALSO: What now for Jamar Houser?
YOUNGSTOWN
Jamar Houser has been in the county jail for more than two years on murder charges in the killing of the 80-year-old member of St. Dominic Church. Those charges could have landed him on death row, but he now is a free man.
Gains on Thursday had a news conference detailing the case against Houser and announcing that murder charges against him will be dismissed.
Houser, 21, had been charged with the Jan. 23, 2010, murder of Fimognari, of Sheridan Road, in the church parking lot on the South Side. She was shot in the head. Her purse was missing, leading police to believe she was a victim of robbery.
"The police department and this office recognize that we have a duty to convict the guilty and exonerate the innocent," Gains said. "At this time there is insufficient evidence to prosecute Mr. Houser."
Gains said the Fimognari family has been kept abreast of developments in the case. He said the family understands the new developments and said there can at least now be closure.
"We have already met with the Fimognari family. Those I have spoken to were OK with this. They are relieved that there is physical evidence linking Colvin to the crime. What was indicated to me is that this will facilitate closure for the family," said Gains.
Two years of waiting came down to a palm print. It was left on the door of Fimognari's car at the time of her murder. Authorities believe the print was left by the killer as he reached into the car to steal her purse.
Police Chief Rod Foley said officers checked the palm print against Houser and found no match. Prosecutors have not said when the print was compared to Houser's hand print. The print also was checked against emergency personnel and others who may have had reason to come into contact with the car, with no match found.
Gains, during the press conference, said two witnesses came forward April 24 saying another man confessed the murder. That man, Colvin, was murdered in September 2011. His murder is unsolved.
Colvin's body was exhumed May 17 so authorities could compare his palm print to the one left on the door of the car. Gains said police and prosecutors learned earlier this week that the print matched Colvin's print.
Colvin was no stranger to law enforcement.
Just weeks before Fimognari was killed, he was released from prison.
In 1996, Colvin was sentenced to 37 1/2 years and 90 years in prison as a 16-year-old after holding up Foy's Bar-BQ on Market Street and a pizza shop on Mahoning Avenue in October 1995.
He lived on Whitman Lane on the East Side before being convicted of robbery, escape and weapons charges.
Colvin served 14 years of his sentence and was released from prison in December 2009.
Foley said even though Colvin's fingerprints were on file from the prior conviction, there was no record of his palm print because palm prints are not filed for convicted felons.
Judge Lou A D'Apolito of Mahoning County Common Pleas Court dismissed the murder charges against Houser on Thursday afternoon.
A court representative said Judge D'Apolito amended the bond in the pending shooting into a habitation charge against Houser to a personal-recognizance bond. He was expected to be released from jail Thursday evening. Houser, Gains said, still must answer to the felony charges of shooting into a habitation unrelated to the Fimognari murder.
The Fimognari murder case technically will remain open to allow authorities to refile charges against anyone involved in the case at a later date.