Mathews' historic victory
Division 3 Regional Semifinal Softball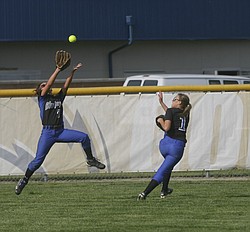 Gallery
Photos by Jessica M. Kanalas from the Division 3 Regional Semifinal Softball at Kent State University.
By TOM WILLIAMS
williams@vindy.com
KENT
Although they hadn't allowed a hit, Mathews High softball players trailed Jackson-Milton by two runs thanks to four errors.
Rather than get frustrated, the Mustangs responded with a four-run fourth inning that sets up the biggest game in school history.
Mathews' 5-3 victory over Jackson-Milton on Wednesday in the Division IV regional semifinals advances the Mustangs to the regional title game for the first time in five trips. Saturday at noon, they'll play the winner of today's game between Crestline and Our Lady of the Elms.
"It means the world to us," junior center fielder Tabby Granelly said.
Asked about the rough start, Granelly said, "That doesn't bother us at all. We're good at keeping our heads in it and in big games like this you have to do that."
Trailing 3-1, the Mustangs (26-3) sent batters to the plate, scoring four of them to take a 5-3 lead. Consecutive singles by Cheyenne Eggens, Hollie Shreves, Olivia Rhodanz and Maddie Williams off Bluejays ace Paije Kiraly ignited the rally and tied the game.
Granelly's two-run triple to right-center field produced the winning runs.
"It felt good," Granelly said of her swing. "We can't leave those runs on the bases."
Once ahead, Eggens, a freshman, took charge, allowing only one Bluejay to reach base the rest of the game.
"I don't really get too nervous, but sometimes I do," said Eggens who is celebrating her 15th birthday today. "I have to shake it off and know that my team, when we bat, we can come back. Which is what we did — I am so proud of them."
First-year head coach Jim Nicula said experience was a factor.
"Our junior class, this is their third time here," Nicula said. "Our sophomores and freshmen have played a ton of summer travel ball."
Eggens (22-3) tossed a one-hitter, striking out 10 batters and walking one.
"This was probably one of Cheyenne's best games of the year, by far" Nicula said. "She grew stronger as the game went on — that hasn't always been the case."
A dropped fly ball in the outfield to open the game put Granelly at second base. After she scored on Grimes' RBI single, Kiraly (22-5) stranded two Mustangs with two popouts.
Aggressive baserunning by the Bluejays (24-5) kept them in the game even though they were unable to connect solidly with Eggens' pitches.
In the second inning, Maddy Tomaino reached on an error, stole third base and scored when Shreves' throw from home eluded third baseman Jacki Rhine.
In their next at-bat, Zaina Sahli and Shannon Ricketson scored in an inning that included two throwing errors, two stolen bases and a wild pitch that allowed Ricketson to race home.
Caitlyn Carney's two-out double in the third inning was the Bluejays' only hit.
"We didn't hit the ball very well today, that's the game-changer" Jackson-Milton coach Kelly Snowden said. "Both teams played hard, neither one quit but it was their day to win."
Eggens said getting the lead inspired comfort on the mound.
"I had a gut feeling — I knew we were going to hit and I knew we were going to come back," said Eggens, who added that the four-run outburst made her feel "like I could finally breathe again."
DIVISION IV
MATHEWS 5, JACKSON-MILTON 3
Mathews 100 400 0 — 5 12 4
Jackson-Milton 012 000 0 — 3 1 3
Cheyenne Eggens and Hollie Shreves; Paije Kiraly and Caitlyn Carney. WP—Eggens (22-3). LP—Kiraly (22-5. 2B—Maddie Grimes (M), Carney (JM). 3B—Tabby Granelly (M).