Ursuline, Canfield face tough opponents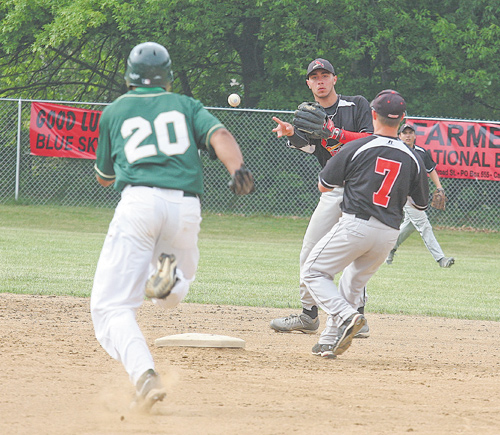 ---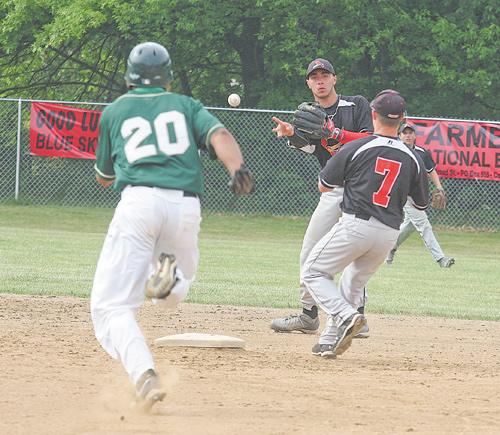 Photo
Canfield's Joe Tuchek flips the ball to teammate Mike Ross (7) as Ursuline's Paul Pegues (20) heads toward second base during Tuesday's game in Canfield.
By Ryan Buck
CANFIELD
With both clubs facing week-long layoffs between their respective district championships and regional play, two of the Valley's most successful prep baseball programs thought an early-week game might be to their benefit.
"Both we and Canfield have done this in the past," Ursuline coach Sean Durkin said. "[Canfield] Coach [Matt] Koening and I get along great and we're here to help each other out. That's the purpose of today."
Dion Felger's two out, bases-loaded single in the top of the seventh and right fielder Paul Pegues' diving catch and double play gave Ursuline a 5-3 road win Tuesday.
Durkin and Koening's squads juggled line-ups and substituted constantly throughout. The teams combined to use nine pitchers as keeping arms fresh was a goal for both.
"That's exactly what today is for," Koening said. "We were able to get guys on the mound that hadn't thrown in some time, so with that being said, we certainly accomplished that."
Canfield (19-5) is making its second straight trip to the Division II Hudson regional. The Irish (19-5), champions of the Division III Struthers district, will play in Massillon the same day.
The Cardinals' lineup will step in against a strong Canton South pitching duo of Josh Costello and Ohio State-bound Logan Bowles.
"Have we seen an Ohio State recruit? Probably not. But we have seen a lot of good pitching this year. All we can do is go out and do what we do best and that's score more runs than the other team," said Koening.
The Irish have a date with La Grange Keystone, who knocked them out of the tournament last season.
"I think we're probably going to have the same pitching matchup that we had last year. It should be a great ball game," Durkin said. "We were a couple swings away last year from jumping up on them. We just couldn't come up with that big hit in a big situation. The fact that they beat us last year helps us in that there's no way our kids are going to overlook them."
While both face different challenges, the common thread seems to be that their perennially strong schedules prepare them for deep runs into the OHSAA tournament.
"We have played a very good schedule this year and I think that the schedule that we've played, a lot of Division I schools, the tournament in Myrtle Beach, I think that has prepared us for games like Thursday's," Koening said.
The Irish are also not afraid to challenge themselves.
"I think it's a big factor. Our losses this year have been to Canfield, to Boardman a couple times, to Mooney, and to Springfield Local. We try to play the best that we can," said Durkin, who added he hopes the two can meet again next week under similar circumstances.
"We were kind of joking during the game a little bit that it's almost become somewhat annual for us to do this. Hopefully next Tuesday we can do the same thing."