Poland and Champion continue title quests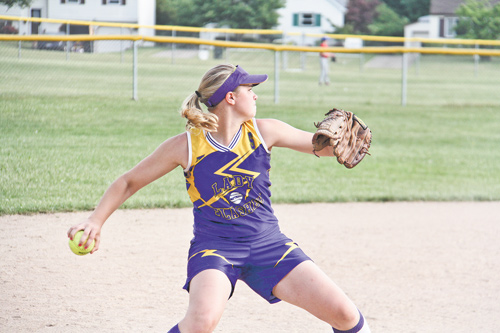 Photo
Champion third baseman Haley McAllister throws the ball to first base to get an out during Tuesday's matchup against Poland at North Elementary School in Poland.
By Greg Gulas
POLAND
So exactly how does a team tune up for its upcoming regional competition?
If you're the defending state softball champions, the natural way, of course, is to play each other.
Arlia Duarte's solo home run in the bottom of the sixth inning gave the Poland Bulldogs a 10-9 win over the Champion Golden Flashes in the final tune-up for both teams before their respective games on Thursday.
The Bulldogs (25-2), the defending Division II state champions, will meet Peninsula Woodridge (25-2) at Akron Firestone at 5 p.m. in the semifinals while the Golden Flashes (20-3), the defending Division III titlists, will take on East Palestine at 5 p.m. at Massillon Community Park.
"Anytime you get 14 hits off Lindsay Swipas you're seeing the ball well. From an offensive standpoint, I was pleased with our performance," Poland coach Reid Lamport said.
"Champion is in the regionals for a reason. We're not used to fielding as many balls as they hit at us tonight, but that was good for us to see," he added.
If the Bulldogs hope to make it back to a third consecutive title game — they were state runners-up in 2010 — they must first get past Woodridge.
"With 90 percent of our team and the same girl [Erin Gabriel] in the circle coming back, we're realizing part of our goal. Expectations are high so we take no one lightly at this time of year," Lamport said.
"This is one of the best hitting teams in my 23 years as head coach and when you combine that with the great pitching that we have gotten, it has been a very special year," he added.
Third baseman Jenna Modic, who had her 18-game hit streak snapped against Champion, threw six innings of relief Tuesday to pick up the win.
She was also named to the Division II all-state team.
"Our goal each year is to take it one game at a time. As the defending state champions we know that there is a bull's-eye on our back so we just take it one step at a time," Modic said.
"We do know that Woodridge's pitcher has an excellent screwball, so to be 25-2 and advance to the regional semifinals they definitely have our respect."
Bulldogs' lead-off hitter Marissa Trevis, who is an All-American Conference first-team selection, has a very simple goal this time of the year.
"Erin and Jenna are our co-captains and our goal is to send them out once again a champion," she said.
Gabriel said staying taking it one game at a time is the key.
"We just need to stay mentally tough and we'll be fine. Our coaches have scouted Woodridge so it should be an excellent game," Gabriel said.
While Poland goes after their second state title, Champion will be eyeing a fifth crown, having also won titles in 1978, 1980 and 1994 in addition to last year's championship.
Their chances rest on the arm of Swipas, who is 18-1 this season with two no-hitters, a handful of one-hitters and 13 shutouts.
"Lindsay broke Jackie Beavers' record of 12 shutouts and she is just like her in that she takes what comes at her in stride," Champion coach Cheryl Weaver said.
"She's such a competitor and just like Jackie, controls her emotions. She's a very special pitcher," she added.
Swipas had a 0.42 earned run average with 224 strikeouts in 116 innings pitched prior to Tuesday's game.
She said the key to their game with East Palestine is staying focused.
"To defend our title with this group of players would be very special. We cannot let anything distract us because anything can happen if you let your guard down," Swipas said.
"We are evenly matched with East Palestine and today's game with Poland was necessary because the talent we will see from here on out will be like that of Poland's or even better," Swipas added.
Shortstop Haley McAllister called Weaver's approach this season a very simple one that has produced positive results.
"Coach never puts pressure on us, but she always makes sure that we play to our potential. Being evenly matched with East Palestine is all the more reason to just relax and play our game," McAllister said.