Occupy Youngstown rallies to promote use of land banks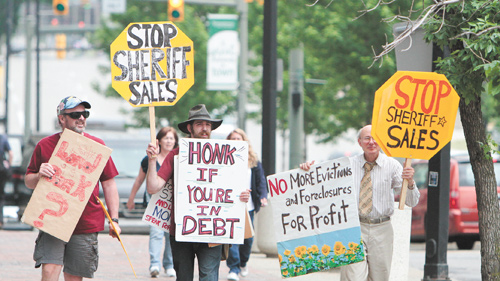 Photo
Sean O'Toole, left, Joshua Kessner and Jim Villani protest the Mahoning County sheriff 's sale of homes that were to be auctioned off Tuesday. O'Toole and Kessner are members of Occupy Youngstown. The Occupy group says land banks should be used to hold and transfer property.
By Sean Barron
YOUNGSTOWN
After having lived in Youngstown for a year, Joshua Kesner wanted to own a home in the city, but too much urban blight put a damper on those plans.
"We're throwing people out on the streets so [banks] can make a profit," Kesner, of Liberty, said in explaining his decision to take part in a demonstration Tuesday outside the Mahoning County Courthouse.
He was one of several members and supporters of Occupy Youngstown who were in the 90-minute rally to protest a sheriff's sale Tuesday in the courthouse basement at which 65 residential properties were to have been auctioned off.
The group opposes the use of such sales as a way of distributing properties in foreclosure or other transfer processes.
Instead, OY supports using land banks to hold the properties and proposes that reacquisition opportunities be a core component of land banks, the group said.
Kesner, a Youngstown State University student, lamented that several homes he considered buying two years ago are now in decline. He added he feels sheriff's sales allow many properties to be sold for a profit with little or no incentive for the buyer to keep them up.
"Sheriff's sales add insult to injury," he said. "They're not contributing to the solution" for turning around blighted neighborhoods that often become havens for crime and drug activity.
Kesner acknowledged he doesn't have the answer for solving the foreclosure problem but said he feels banks that buy such homes should be obligated to invest in and maintain them.
Sean O'Toole of Youngstown, an OY member, said he would like to see land banks in the area adopt more procedures for buyers of such properties to bring them into compliance with city codes.
O'Toole said that during the winter, OY members fed homeless people, many of whom had lost their homes for reasons that weren't their fault, such as job loss.
Also demonstrating was Jim Villani, owner of Pig Iron Press on North Phelps Street downtown.
O'Toole stressed that the demonstrators are not protesting the sheriff's department, which has to do its job. Instead, they oppose what they see as unfair foreclosure practices as well as the ability of many financial institutions to buy then neglect many parcels, adding to blight.
"We support what they do," he said of law enforcement. "We want to see fairness."