Locals offer something to wine about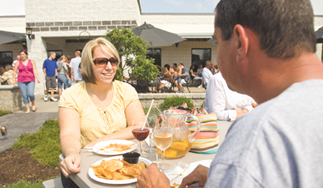 ---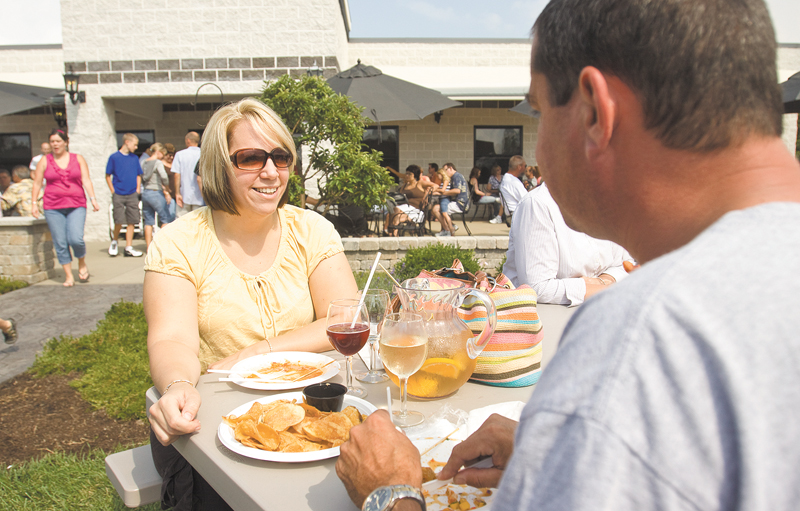 Photo
Lisa Grafton of Hinckley and Gary Poage of Salem enjoy wine at Mastropiétro Winery.
When You Go...
Mastropietro Winery
14558 County Road 116
Berlin Center, OH 44401
330-547-2151
Ferrante Winery &
Ristorante
5585 N River Road West
Geneva, OH 44041
440-466-8466
Raven's Glenn Winery
56183 County Road 143
West Lafayette, OH 43845
740-545-1000
about VALLEY VINO
Contact Brian at brian.fry@myvalleyvino.com or by visiting www.myvalleyvino.com.
On vindy.com: stay up to date with Brian's tastes and travels 24/7.
Valley Vino
The growth of the wine industry in Ohio has been impressive and recently rapid, and the quality and variety of wines produced have also increased during this time.
Wine entrepreneurs have opened wineries in every corner of the state.
As we prepare to celebrate Ohio Wine Month in June, even the most knowledgeable wine lovers might gasp at the fact that there are now 124 licensed wineries in the Buckeye State.
We kick off our coverage of Ohio Wine Month with a look at three local wineries: a local favorite, one of Geneva's best and a surprising winery you may have never heard of.
Local Valley Favorite: Mastropietro
Mastropietro Winery in Ellsworth Township offers a lengthy list of wines with incredible variety. The wine list includes three Estate Grown offerings:
Chambourcin: Medium-bodied, semidry with a bit of flora and a nice beery flavor.
Frontenac: A very sweet jammy wine with just a hint of peppery spice.
Vidal Blanc: Off-dry with orchard and citrus fruit flavors. Easy drinking for summer.
Mastropietro also offers 19 other wines that it makes with grapes sourced from other vineyards. These wines range from the sweet Dolce Bianco and Sunset to the traditionally dry Sangiovese and Cabernet.
The winery also offers numerous banquet and party rental opportunities including its banquet room, gazebo and rustic pavilions. It has a catering partnership with Rachel's Restaurant and Catering Co.
In the summer months the menu expands and includes outdoor preparation.
Geneva's Must Visit Winery: Ferrante
It's hard to run into a Valley wine fan who hasn't visited Ferrante.
My first visit to Geneva was as a college student in the late '80s when things were just starting to get some momentum up there. Over the past three decades the Geneva wine industry has boomed.
Ferrante has led the way during this expansion. Few were surprised when it recently won the most medals at the 2012 Ohio Wine Competition.
Ferrante offers something for all types of wine lovers. Here are a few highlights:
2011 Signature Series American Riesling — White Best in Show.
Raspberry Blanc (NV) — Best Fruit/Specialty Wine.
2011 Signature Series Gew ºrztraminer — Gold Medal.
If you are planning a summer trip to Geneva, make sure you visit Ferrante. It has greatly improved and expanded the restaurant and entertainment facility over the past few years, including its beautiful outdoor terrace, which offers live entertainment most weekends in the summer.
A great winery you may not have heard of or visited:
West Lafayette, Ohio Raven's Glenn
This is an impressive and modern winery with a good Italian restaurant.
It recently won two big awards at the 2012 Ohio Wine Competition:
2007 American Cabernet Sauvignon — Best of Show.
2009 Rosso Grande — Best of Show Red Wine.
In addition to these dry reds, Raven's Glenn produces a variety of fruit wines that so many Ohio wine lovers enjoy, including its Blackberry Wine and Apple Sangria.
This article is merely scratching the surface of what Ohio's wine industry has to offer.
You can follow more coverage of Ohio Wine Month on Vindy.com/valleyfood.
More like this from vindy.com