Zordich always looks ahead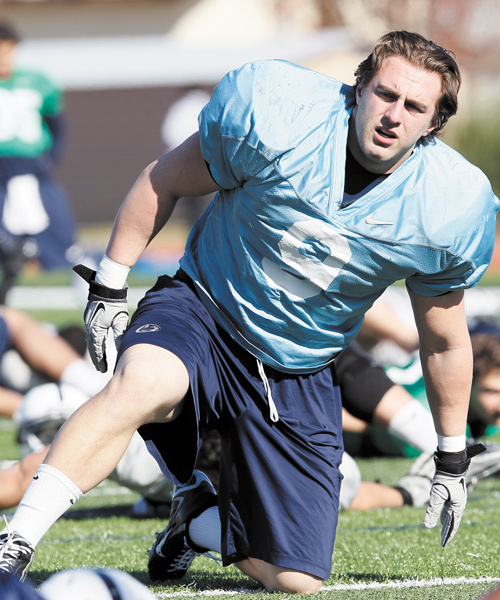 Photo
Penn State running back Michael Zordich (9) warms up before practice at Bishop Lynch High School in Dallas.
By Tom Williams
BOARDMAN
Four years ago, when Michael Zordich committed to the Penn State University football team, he was pretty sure he was going to the most stable program in the Big Ten.
"Even though he was as old as he was when I signed, you kind of figured that he would be there forever," said Zordich of Penn State's legendary coach Joe Paterno.
But as the Cardinal Mooney High graduate gets set to prepare for his senior season, Penn State, along with Ohio State, have become the Big Ten's poster children for upheaval. In the past 12 months, Jim Tressel resigned as Ohio State's head coach, paving the way for Urban Meyer's return to coaching and the Buckeye State.
Six months ago, the end of Paterno's career devastated Penn State. On Nov. 9, Penn State's trustees fired Paterno in the wake of the Jerry Sandusky child abuse scandal. Two months later, two weeks after Bill O'Brien was named Paterno's successor, Paterno died of lung cancer.
Speaking at last week's United Way Champions Among Us banquet at Mr. Anthony's, Zordich said the Nittany Lions are still sorting their emotions.
"You can't say enough about Coach Paterno — he meant so much to so many," Zordich said. "He's touched so many [lives].
"The way that he went out, I'm not saying that the whole situation wasn't ugly but the way he had to go out, how he was fired, was unfortunate," Zordich said. "I don't think he deserved that because he's done so much for the university.
"He deserved better."
Looking ahead, Zordich says the players are rallying around Bill O'Brien, the former offensive coordinator of the New England Patriots who was named Paterno's successor on Jan. 6.
"He's one of the best, he's got a great staff around him," Zordich said. "Most importantly, the guys on the team love him and they will battle for him.
"We really enjoy having him around and we're looking to do some good things this year."
Zordich's career for Penn State won't finish the way it started. Zordich went to State College, Pa., as a linebacker and was a defensive reserve when the 2009 training camp ended.
During his redshirt freshman season, he transitioned to the offense, contributing as a running back and on special teams.
Tressel and Zordich were the guest speakers for the United Way banquet which attracted 1,000 patrons.
"It's such an honor to be here, especially in the company of Coach Tressel and all these people I grew up with — old coaches, family members, teammates. It's really cool to be here."
Zordich said the Nittany Lions intend to channel their loss into gains.
"It's a healing process and that's kind of what we're working to do this year — heal all those wounds from last year and move forward," Zordich said.