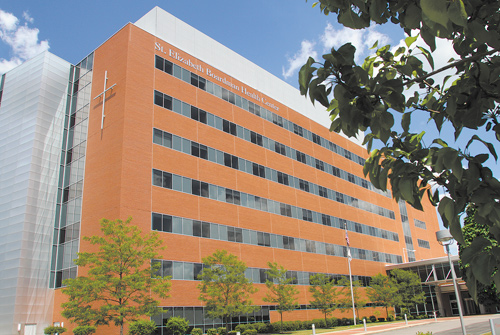 Photo
An exterior photograph of Humility of Mary Health Partners' St. Elizabeth Boardman Health Center, which will be expanded with a seven-story patient tower beginning this fall. The $100.7 million project is part of $203.3 million investment at its facilities in Mahoning, Trumbull and Ashtabula counties that was announced by HMHP on Monday .
BOARDMAN
Humility of Mary Health Partners plans to spend $203.3 million to add patient capacity at its hospital here and upgrade its hospitals in Youngstown and Warren by creating all-private patient rooms.
The massive investment over the next three years, announced Monday at St. Elizabeth Boardman Health Center, also includes millions of dollars' worth of technology updates and relocating labor/delivery and nursery services from St. Elizabeth in Youngstown to the Boardman hospital.
The major, single investment of $100.7 million is a second seven-story patient tower at St. Elizabeth Boardman, to match its current tower, which will be built north/south and parallel with Market Street.
The patient tower will be built in seven phases beginning this fall, with the seventh floor expected to open in January 2017. It will have 72 medical/surgical and telemetry beds, six intensive-care beds and four operating rooms. It also will be the site of the labor/delivery and nursery services, with 12 labor-and-delivery beds, 32 postpartum beds and a 24-bed newborn nursery with all private rooms, said Genie Aubel, president of St. Elizabeth Boardman.
Moving the labor, delivery and nursery services will bring more than 300 jobs to the Boardman hospital, about 250 transferred from St. Elizabeth Youngstown, as well as a number of new positions, officials said.
Though the neonatal intensive-care unit, which will continue to be operated by Akron Children's Hospital, will be moved from Youngstown to Boardman, HMHP is not abandoning Youngstown as some have speculated, said Daryl S. Cameron, chairman of the HMHP board of directors.
Rather, Cameron said, the changes will strengthen St. Elizabeth Youngstown's position as the "central hub of HMHP," the place where highest-risk patients will receive the highest level of care, such as heart and brain surgeries.
Also, St. Elizabeth Youngstown is home to the Joanie Abdu Comprehensive Breast Care Center, a Level 1 trauma center, and a psychiatric program and health clinics, he added.
Humility of Mary Health Partners could not take a wait-and-see attitude and build a health-care system in response to what government requires or what other health-care providers do, said Robert Shroder, president and chief executive officer.
Instead, he said, HMHP identified the needs of the community and planned to meet them.
Over the next 10 years, HMHP will develop centers of excellence in cardiovascular, primary care, oncology, neurosciences, orthopedics and women's services, Shroder said.
St. Elizabeth Boardman will expand in size to meet the growing needs in the southern market of Mahoning County, Shroder said.
St. Joseph Health Center in Warren will be re- configured to more effectively serve its patients, and its emergency diagnostic center in Andover in Ashtabula County will be expanded, he said.
Within five years, said Donald Koenig, executive vice president of operations for HMHP, all patient rooms in HMHP will be private.
He said St. Elizabeth Youngstown also will focus on a hybrid operating room and trauma center, where diagnostic equipment, such as a CT scanner, will be immediately available right in the middle of heart surgery.
To say the investment is significant would be an understatement, said Paul N. Olivier, HMHP senior vice president of business development and quality officer.
When deciding whether to do these projects, HMHP used community focus groups and consulted with its physicians and the board to help identify future clinical needs and how they will be used, Olivier said.
The investment comes at the same time as charity-care provided is increasing.
Cameron said HMHP provided charity care to more than 99,000 individuals without insurance or whose insurance does not cover the care they need in 2011 at a cost of $26.7 million, an increase of 12 percent over 2010.
"As chairman of the board, I believe it is my job to make certain that the pressure to make financial ends meet does not blind us to the need to meet the needs of our entire community ... and keep HMHP on a path where it maintains its position of providing world-class care to all in the community" regardless of ability to pay, Cameron said.