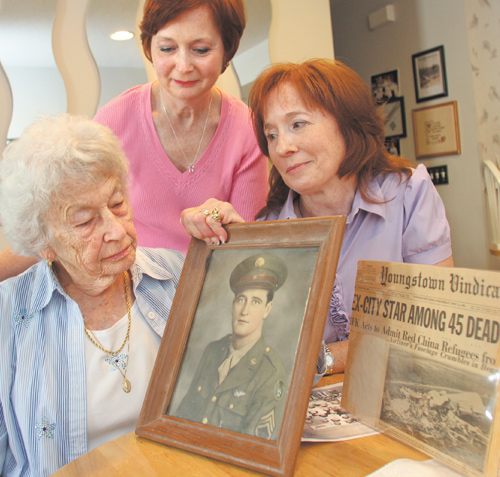 ---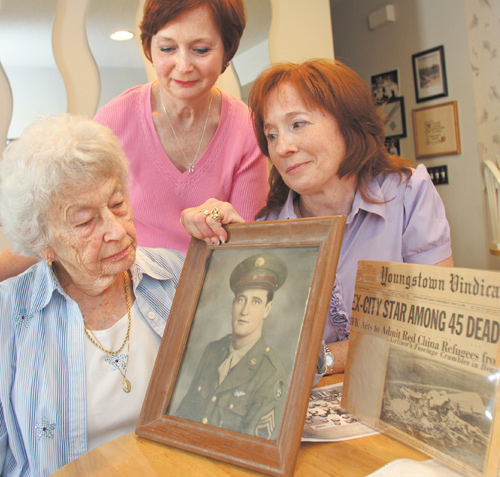 Photo
Rosemary McIntire, left, recalls memories of her first husband, Maurice Hamilton, who was killed in a plane bombing. Two of her daughters, Roseann Cencia, center, and Teresa Kondis, right, discuss their father and how their lives changed after his death. Hamilton and 44 others were killed May 22, 1962, when a bomb placed in the plane's bathroom brought the aircraft down over the Iowa/Missouri line.
By Elise Franco
Youngstown
A local family whose lives were changed by the death of their patriarch in an airplane bombing 50 years ago will reunite with other victims' families to reflect on the first recorded terrorist attack on a domestic flight.
Maurice Hamilton, 42, of Youngstown, and 44 other passengers died in the May 22, 1962, crash that federal investigators later would determine was no accident.
Investigators with the Federal Bureau of Investigation determined that Thomas G. Doty, a married man with a young daughter, recently had purchased a new life- insurance policy. Further investigation proved that Doty also purchased dynamite shortly before the flight, which he used to build a bomb that was placed in the airplane restroom.
Remembering
Over Memorial Day weekend, Rosemary Hamilton McIntire, 90, of Poland, and her five children, Roseann Cencia, 59; Maureen Riordan, 61; Thomas Hamilton, 56; Kathryn Hamilton, 53; and Teresa Kondis, 50; will travel to Unionville, Mo., the site of the crash where a memorial was erected in 2010.
There they will reunite with other victims' families and remember their loved ones who died 50 years ago.
"We've talked to so many people who, their story is our story," said Cencia, of Poland. "We would have never met each other if it hadn't been for this, and we have a strong connection in that fact."
Cencia said they'll gather with Unionville residents and officials for a remembrance event.
"It's a part of history," said Kondis, of Lake Milton. "It's why we have bomb detectors in airports."
Cencia and Kondis said the family looks forward to revisiting the site because there's something peaceful about the place where the tragedy occurred.
"You get this kind of feeling that something really important happened there," Cencia said.
Kondis said standing at the site is a peaceful and quiet experience that is now "all lake and flowers and field."
Aftermath
McIntire said her husband wasn't supposed to be aboard Continental Airlines Flight 11 when it went down over the Iowa/Missouri state line.
Hamilton, a chemist with Switzer Bros. Co. in Cleveland, now called DayGlo Color Corp., was asked to make a trip to Owens-Illinois Glass Co. in North Kansas City, Mo., according to Vindicator archives.
"He was called at the end of the workday to go help with a problem there. ... because the man who was supposed to go wasn't able to," McIntire said.
Cencia, who was 9 at the time, said she remembers what seemed like a long period of time with no news or new information.
She said Continental called with information that the plane was reported missing before the crash, but the family didn't hear from Continental again.
"She found out about the crash by listening to the radio, and I'm sure it was that way for others, too," Cencia said. "The first days, I recall a lot of people coming to the house. It was so life-changing."
McIntire said she'll never forget the moments after first hearing the news, especially the reaction of Kathryn, who was 4 at the time.
"Everybody was shocked, kind of like, 'Oh,'" McIntire said. "But Kathryn went screaming through the house. I'll never forget that."
Moving on
The weeks, months and years that followed the crash would prove to be a trying, yet rewarding time for McIntire, who was left to raise five young children on her own.
The stay-at-home mother moved her family from Cleveland back home to Youngstown and found herself in need of a job for the first time. She worked first as a kindergarten teacher and later as an office secretary.
"I think somebody upstairs looked out for us," McIntire said. "Even though I'll never get over it, even though I was alone to take care of my children, life does go on."
Cencia said growing up without a father was difficult, but it forced everyone in the family to become stronger, more independent people.
"He did everything right, and he was just starting to build a life for us all," she said. "My siblings and I have all done well with our jobs. We're all very self-supportive because it had to be that way."
Kondis' childhood was a bit different from her older siblings', however, because she was only 11 months old when her father died.
"I didn't really know my father at all, so their experiences with him weren't mine," she said.
Kondis recalled being the only child in her class with only one parent.
"No one else in school had a single mom," she said. "It was so tragic, and I missed him because I saw the sadness my mom experienced."