State track and field berths up for grabs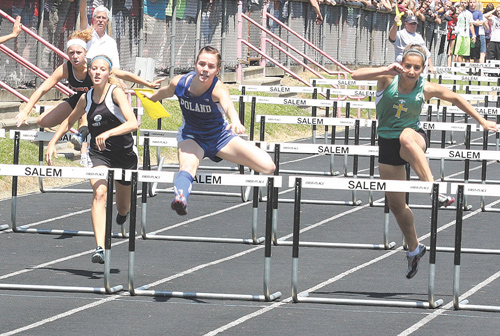 Photo
Sage Spotleson of Poland leads the way in the 100-meter hurdles last weekend at Reilly Stadium in Salem. Spotleson qualified for the regional in the event in Bedford this week.
Twice in the Division I district track meet at Fitch, a runner from Kenston High won his respective events in come from behind fashion.
In the 4x100 relay, Howland's Willie Summerlin was a victim when Darryl Richards passed him in the last 20 meters. Mark Hadley experienced the same Bombers' push in the 1600 when Owen Norley edged him by 27 tenths of a second after the Boardman sophomore led for a majority of the race.
"They're a strong team all-around," Fitch boys coach Rich Kempe said. "As soon as I heard that they were in our district, I knew it was going to be a battle. They're great to see and go up against."
Kenston is still sticking around, but so is Summerlin, Hadley and Kempe's Falcons, in the regional competition starting Wednesday, again, at Falcon Stadium.
I should've finished harder [in the 1600]," Hadley said on Friday. "Definitely need to work on the kick because it's the second time I've been caught. Obviously, I need to address that."
With it being so late in the season and, potentially, only two meets remaining, local athletes still find the time and passion for improving on their journeys to the state meet.
"I haven't had any workouts this year — I've just been doing races," Hadley said. "This week I'll work on getting stronger, too."
A pair of Div. II hurdlers, Scott Lodge and Sage Spotleson, of Salem and Poland, respectively, focus on the finer details.
"My technique needs to improve in the 300," Spotleson said. "I'll try to slow things down to prepare."
Even though he won the 300 hurdles, Lodge feels a bit of pain during each jump.
"I hit one every time I go over it and it stops me a little bit," he said. "It does hurt. I found out how to toughen up and go so it doesn't hold me up."
In the Div. III regional hosted by Navarre Fairless, Maplewood and McDonald boys can follow up from an intense battle from a year ago. The Blue Devils fell short by just one point in the team standings, missing the regional championship when the Rockets' Morgan Hake secured the fourth and final qualifying spot in the 4x400 relay. McDonald was fifth.
Both teams are reloading for this year with Hake returning, as well as Wyatt Hartman — winner of the 800. McDonald's Kyle Joynes is the reigning champ in the 3200.