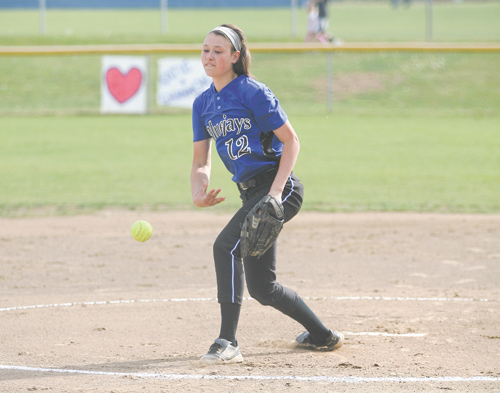 ---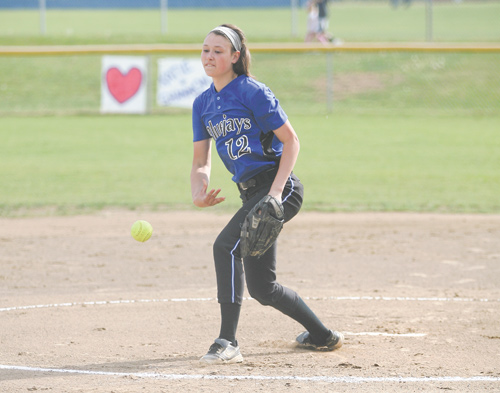 Photo
Jackson Milton's Paije Kiraly begins pitching during the first inning in the Bluejays' recent tournament game against the Western Reserve Blue Devils. Kiraly and the Bluejays play Mathews in the Division IV regional semifinal on Wednesday.
By Greg Gulas
North Jackson
After posting a thrilling extra-inning victory over Western Reserve to capture the Division IV district championship, the Jackson-Milton softball team awaits the program's fifth regional semifinal appearance.
Standing between them and a date in the regional championship, however, will be the Mathews Mustangs, an 8-3 winner over Southington.
The Blue Jays and Mustangs will collide Wednesday at 5 p.m. at Kent State University's Diamond at Dix Stadium for the right to advance to the championship game.
Kelly Snowden, a J-M alum who is in her 15th season as coach, has been a part of all five Blue Jays' teams which have advanced to regional play. She was a player on the 1992 team and has guided the other four as coach.
Their goal this season has been very simple; "Win the Last Game."
"We take it one step at a time, one inning at a time and try not to look too far ahead because that is when you get in trouble. A state championship is always on everyone's mind on every team throughout the state," Snowden said.
"We started practice in the winter in the gym and since that time this team has remained focused on the goal at hand," she added.
After a semifinal bye, the Blue Jays defeated Sebring, Mineral Ridge and Western Reserve for the district crown.
Comprising the 15-member roster is a freshman, seven sophomores, five juniors and two seniors.
If the Blue Jays expect to make any noise in regional play, it will be up to pitcher Paige Kiraly to keep opponent bats silent.
The junior is 22-4 with 16 shutouts, while Beth Ritchie, a sophomore who also doubles as the first baseman, is 2-0 in the circle.
"Paige is mechanically sound and someone who would be an excellent poker player because you cannot tell if she is ever rattled," said Snowden. "She has all of the pitches necessary in order to be a success and always hits her location. She truly is every coach's dream."
Junior catcher Caitlyn Carney leads the Bluejays in batting (.560), home runs (4), doubles (15) and hits (51).
Her 40 RBIs this year set a single-season school record.
It is behind the plate, however, where Carney's true worth is found.
"In addition to the offensive spark that she provides, Caitlyn calls all of the pitches as well so you can see her overall value to the team," Snowden said.
Ritchie, a .400 hitter, will draw the starting assignment at first base while sophomore Taylor Tharp, an excellent fielder, will play second.
For Snowden, the biggest change from last year's team was the repositioning of second-baseman Madison Tomaino to third.
"Madison embraced the move to third base and has responded both defensively and at the plate," Snowden said.
Katie Santor, one of two seniors and second on the team in doubles, is the shortstop while the outfield is comprised of Zaina Sahli in left field, Shannon Ricketson in center and Rachel Obradovich in right.
Sahli, a junior, is the leadoff batter who has racked up 45 hits, scored 45 runs and stolen 30 bases. Ricketson is considered a bunter-slapper and along with Santor, is the other senior.
Obradovich's strength is her arm which has kept opposing hitters from advancing an extra base.
The Blue Jays' designated player is Gabby Tharp, twin sister of Taylor who has a .350 batting average.
Back-up players include freshman Kori Edwards, sophomores Becca Jones, Katie Eleo and Gina Catone and junior Jenn Troutman.
"Both teams look to be evenly matched so the team that doesn't play nervous will be all right. We expect a tough battle," Snowden said.