Judge sentences Shaw to 62 years in prison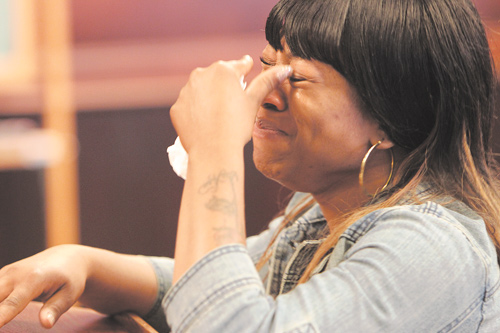 Photo
Sierra Smith, a cousin of Tracee Banks', shows her emotions as she talks about how Banks' death has affected Smith's daughter, who was in the West Side house when Melvin Shaw shot into the home, killing Banks and wounding her friend.
YOUNGSTOWN
The mother of a murdered 17-year-old girl begged a common-pleas judge to send her daughter's killer to prison for the rest of his life, and that is exactly what Judge James C. Evans decided to do.
Melvin Shaw, 20, was convicted last week of killing his 17-year-old girlfriend, Tracee Banks, and wounding her friend, 18-year-old Jamel Turner, in April 2010. He ultimately was convicted of aggravated murder, attempted murder, felonious assault and improperly discharging a firearm with firearm specifications on all charges. He won't be eligible for parole for 62 years.
Dawn Cantalamessa, an assistant county prosecutor, told the court Shaw had been arguing with Banks the day of the shooting and went to the Manchester Avenue home where she was baby-sitting in a rage either over the argument or because another man, Turner, was in the West Side house. She said he shot both people and then simply went home.
Tracee Hewlett, Banks' mother, was in court with a dozen family members for the sentencing Monday morning. She told the court, prior to sentencing, how much pain the loss of her daughter has caused her family. She recounted burying her daughter and all the things she will never see her daughter do, such as graduate from high school or get married.
"Because of him, I will never see my daughter again. Tracee is dead because of him. ... He ended my life when he took her," Hewlett told the court while choking back tears. "She loved him, and he murdered her. ... Please put him behind bars for the rest of his life. She did not deserve to die. He deserves to be punished to the full extent of the law and die in prison."
Banks' cousin, Sierra Smith, who lived in the Manchester Avenue home at the time of the shooting, also addressed the court prior to Judge Evans' passing sentence. She reminded the court that Shaw had no regard for her 4-year-old daughter, who also was in the house at the time of the shooting. Smith said she has moved since the shooting, but the child is still fearful to be alone at night when it is time for bed.
Shaw showed no emotion during the statements from the family of the victim. His attorney, Thomas Zena, advised him to make no statements because he will be filing an appeal, but Zena said his client is remorseful about what took place, while still maintaining his innocence.
Zena made a motion in the court for a mistrial in the case and then asked that the court grant his client a new trial. Judge Evans overruled both motions, but Zena made it clear he would be appealing the matter to the court of appeals.
During the trial. Zena argued that a photo lineup in which Shaw was identified as the shooter is unreliable.
He also made mention of the fact that Turner had been shot at only days prior to the house shooting in an incident that had nothing to do with his client.
Judge Evans ultimately handed down lengthy sentences for all the charges against Shaw. He ordered some of the sentences to run consecutively, resulting in a 62-years-to-life sentence for the convicted man.