Home in Ellsworth damaged by fire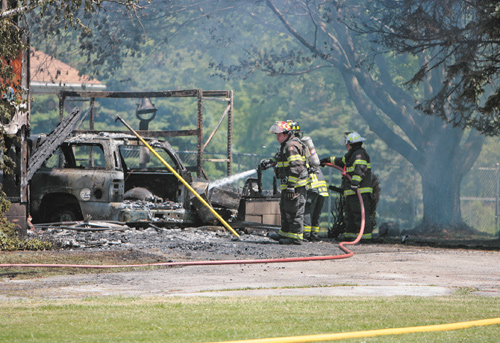 Photo
Firefighters work on extinguishing hot spots left over from a blaze that consumed the garage and much of a house at 8869 Duck Creek Road in Ellsworth Township. Fire crews from almost a dozen departments responded for mutual aid, and the homeowner made it out without injury. The fire remains under investigation, and the cause is not yet known.
By Elise Franco
Ellsworth
Neighbors watched in shock as fire crews from nearly a dozen departments extinguished a blaze that consumed a home on Duck Creek Road.
Aaron Byers of the Ellsworth Fire Department said firefighters received a call just before 11:30 a.m. Monday that 8869 Duck Creek was engulfed in flames.
Crews from Berlin, Canfield, Jackson, Salem, Damascus, Green, Sebring and Deerfield were called for assistance, and Byers said the fire took about 45 minutes to extinguish.
Firefighters then spent time putting out hot spots around a propane tank and piles of debris.
Byers said the fire seemed to originate in the garage, which was destroyed. The house also was badly damaged by smoke and fire.
"When we arrived, the garage was fully engulfed, and it began to come through the roof of the second story," he said. "Then a propane tank started to blow off in the back."
Byers said the homeowner was inside when the fire broke out but was uninjured.
"A neighbor banged on the door and got her our before the garage became engulfed," he said.
Several neighbors said they heard what sounded like an explosion then saw plumes of smoke coming from the residence.
"When we looked, we saw all the smoke and flames coming up above the tree line," said Sharon Berlin, who lives several houses down. "It was blazing."
Byers said the cause of the fire remains under investigation.