---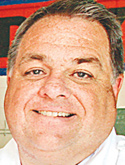 Photo
By Elise Franco
Austintown
The township fire department will add a seventh person to each shift thanks to a $235,000 federal grant.
Assistant Chief Andy Frost III said the department was chosen as one of 10 in the country to receive money through the Federal Emergency Management Agency's Staffing for Adequate Fire and Emergency Response grant.
Frost said the money will allow the department to add another truck slot that will be shared among four current part-time firefighters.
"The money is going to allow us to job share," he said. "We're going to be able to give part-timers more hours."
Frost said the two full-time stations on state Route 46 and Mahoning Avenue currently have six firefighters on duty every shift, three per station. He said the grant will allow for a fourth person at the station on Route 46.
He said the National Fire Protection Agency standards state that each on-duty firetruck should be manned with four firefighters.
"We had this grant from 2005 to 2010, and when it expired, we dropped from seven to six people on duty," he said. "It's so unacceptable to be at that level, so we really need to bring that seventh person back in."
The department will begin scheduling the increased part-time hours in June and will have five full-time and two part-time firefighters on duty at all times, Frost said.
FEMA will announce more rounds of grant money in coming months, but Frost said that Austintown's being chosen in the first round showed its need for the funds.
"We're working understaffed," he said. "It's purely a safety issue: the safety of our guys and of our residents."
Trustee David Ditzler said it's important to understand that the grant doesn't replace any money the township has lost to state budget cuts.
"The grant is allowing us to put an additional man on the crew, but it won't bring in any additional money," he said. "It will definitely enhance our fire protection for the community."
Frost said the grant is 100 percent paid for by FEMA through 2014 and was awarded without a stipulation that the department must be able to financially maintain the increase in hours for the four part- timers once the two-year period expires.
"FEMA pulled that stipulation out this year because it was stopping a lot of townships from applying for these grants," he said.