Top achievers reap rewards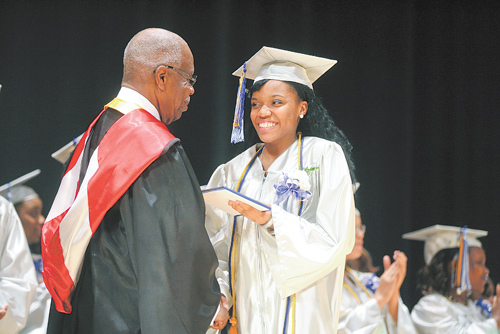 Photo
Graduate Kenisha Coleman, 17, receives her diploma from Youngstown Board of Education President Lock P. Beachum Sr. during the commencement ceremony for the 2012 graduating class of Youngstown Early College on Sunday in Powers Auditorium.
By Ed Runyan
YOUNGSTOWN
This year's 51 graduates of Youngstown Early College earned an average of 48 hours of credit at Youngstown State University the past two years.
Eleven of the students earned associate degrees.
But what they also take with them as they leave their high-school years is the confidence that goes with knowing they have learned at a high level and have overcome significant challenges.
Jason Mar-Keith Gilmore says he knew before he started the program that it would require him to make great sacrifices. That's why he had hoped he would not have been accepted.
Gilmore and his classmates received diplomas at a graduation ceremony in Powers Auditorium on Sunday.
"I wanted to go to Chaney, clown a bit and do all the fun things," he said.
But when the letter arrived four years ago, accepting him, Gilmore started down a road that he now believes will end with him becoming a pediatrician.
As a freshman, he took junior-level classes. As a sophomore, he took senior-level classes. In his junior and senior years, he and his YEC classmates took university classes.
"It's stressful," Gilmore said Sunday during commencement ceremonies at Powers Auditorium.
"So many times I wanted to give up. I wanted to go to the movies and stay out late, but I didn't, even when I wanted to quit and burn everything that had to do with school."
Gilmore, who gave a speech as one of the salutatorians, said his faith in God kept him going. "Faith is why I'm graduating. Faith is why I'm getting my associate's degree. I had to learn I was not the smartest in the world, and I needed help."
Gilmore was among dozens of YEC graduates who will continue their education at YSU at little or no cost because of scholarships the university has awarded them.
Dr. Connie Hathorn, Youngstown superintendent, lauded the 51 graduates for their perseverance.
"We know it is not easy," he said of the program. "We know how many students started it and did not complete it."
Youngstown Early College is a collaboration between Youngstown City Schools and YSU that gives opportunities to students who have traditionally not gone to college.
YEC was recognized this month by U.S. News and World Report as among the top 10 percent of high schools in the state. The program has been rated excellent on the state report card for three years.
Jay Williams, former Youngstown mayor and executive director of the U.S. Office of Recovery for Auto Communities and Workers, keynote speaker, told the students their educational life up to now has been a "shared responsibility. Today that changes. It's up to you."
In their lives beyond high school, the students will have to decide on coursework and careers, but perhaps more importantly, they will decide what type of person they will be.
"The decision is what type of impact you'll make on society," he said. "The world needs those who will do what's right. The world needs you to leave a mark," he said.
"You will face temptation to stay away from what you know is right. It's doing the difficult thing where the graduates of Youngstown Early College will shine. Our state, our world are in great need. It's up to you to decide how to respond."
Michelle Moore, mother of graduate Cody Moore, said the school has been an "awesome experience" and one many YEC students wouldn't otherwise have because of the cost of college.
"It's preparing him for the real college experience," she said of having already spent a lot of time on a college campus. "A lot of us are unprepared for college. He is prepared instead of being shell-shocked."
Graduate Takayla Ahart, who will continue her education at YSU as a psychology major, said she feels the challenge of Early College helped her to do her best.
"You have to do a lot more working, a lot more studying. You can't slack. There is a focus in the classroom, and we take it seriously."