Campbell gets $1.9M for YS&T property cleanup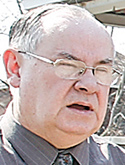 Photo
By Ed Runyan
CAMPBELL
Approval of a $1.9 million Clean Ohio grant for cleanup of 40 acres of former Youngstown Sheet and Tube property brings construction of a $300 million Sherman International steel mill one step closer to reality, Campbell City Manager Jack Dill said Sunday night.
Sherman International plans to build a cold-roll coil mill on the property, which it owns northwest of the Walton Avenue bridge over the Mahoning River. It is projected to create 300 jobs.
Dill said Sherman International of Pittsburgh, which plans to supply thin-guage steel in support of the construction, automobile and HVAC industries at the mill, will be providing matching money for the project. Dill said he doesn't know how much money.
The city manager said he believes the mill, to be called Sherman Metals Technologies, will be built, but it's not clear how long it will take for the company to break ground.
Similar cleanups have taken a year, he said. The mill won't be constructed until after the cleanup is done. An earlier study identified the specific cleanup work that needs to be done, Dill said.
The grant for which Campbell applied will be used to clean soil, remove asbestos and general waste, as well as demolish buildings, the Department of Development said Friday in announcing the grant.
It was one of the larger Clean Ohio awards given in Round 12 of the program, which will provide money for 11 brownfield cleanup sites. Other locations getting money are Cleveland, Dayton, Fostoria, Franklin County, Kent, Mount Vernon, Sandusky, Steubenville, Twinsburg and Xenia.
Dill said the grant is great news, especially since this may be the last round of Clean Ohio grant money to be awarded.
The Clean Ohio Revitalization Fund is a competitive statewide program that provides grants of up to $3 million to acquire property, demolish structures, conduct environmental cleanup and improve infrastructure.
Since its inception, 150 Clean Ohio projects have been awarded more than $295 million, leveraging $2.5 billion in private-sector development and creating and retaining more than 12,500 jobs, according to the Ohio Department of Development.