Youngstown postal center to close by Feb. 2013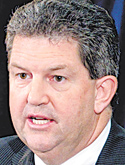 ---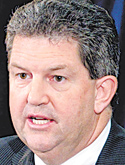 Photo
Youngstown
The Youngstown mail processing and distribution center will close by February 2013.
The U.S. Postal Service announced Thursday the closing of the city facility along with 139 other locations by early next year. About 500 employees work at the downtown processing and distribution facility. The distribution center in New Castle, Pa., also is scheduled to close.
The postal service also announced a second and final phase of 89 consolidations is scheduled to begin in February 2014.
The post office delayed its consolidations this year to allow customers and employees more time to plan, said Patrick R. Donahoe, postmaster general and chief executive officer of the USPS.
"We simply do not have the mail volumes to justify the size and capacity of our current mail-processing network," Donahoe said. "To return to long-term profitability and financial stability while keeping mail affordable, we must match our network to the anticipated workload."
The employees at the Youngstown distribution center will not lose their jobs based on the closure, said David Van Allen, a postal service spokesman.
Most staff reductions are expected to come through retirements, he said.
The postal service also is planning an early-retirement plan for employees that will be announced when it is completed, Van Allen said.
"This is a disaster," said Sally Davilow, spokeswoman for the American Postal Workers Union.
The two phases planned will eliminate about half of the postal distribution centers nationally, she said.
Most people think the postal service's problems are due to email or other electronic services. The real reason, however, comes from a 2006 bill that forces the postal service to fund health benefits for retirees in advance, Davilow said. The advance funding costs the postal service $5.5 billion per year.
"There is no other government agency or private business that has that kind of requirement," she said.
The union is encouraging residents who are upset by the changes to call their congressmen, she said. The U.S. Senate has passed legislation that would help the postal service, but the House has not taken up the issue.
"People all over the country were protesting the closure of these locations, but it did not make a difference," she said.
Before the postal service began its study, 229 locations were considered for closure. That same number are scheduled for closure in both phases, Davilow said.
"The post office needs to modernize. It should add new services and products," she said.
Other locations in Ohio scheduled to close include Portsmouth, Dayton, Mansfield, Athens, Ironton, Steubenville, Canton, Wooster, Cambridge, Chillicothe, Coshocton and Massillon.