Young shooting victim vowed to change his life, family says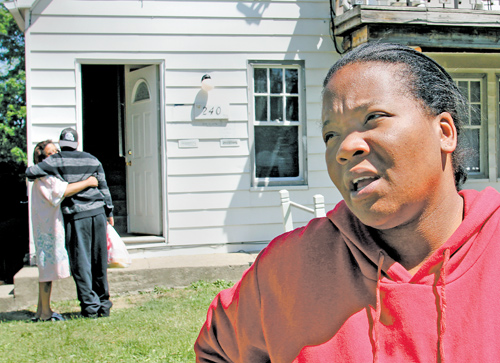 Photo
Melissa Watkins of Columbus takes time to reflect on the life of her cousin, Pako Lacey, 20, who was shot to death on the South Side earlier this week. Other family members embrace in the background in front of the East Avondale Avenue home where police found his body.
YOUNGSTOWN
Family members say homicide victim Pako Lacey was on track to making changes to his life and looking forward to achieving some short-term goals.
Now, however, they just want police to find who is responsible for his death.
It had been less than 48 hours after Lacey, 20, and his 17-year-old girlfriend Juanetta Franklin had been found shot to death in an upstairs apartment at 240 E. Avondale Ave., but the family returned to the house to begin going through Lacey's room.
Melissa Watkins, a cousin raised with Lacey since childhood, said she was overcome with emotion after finding a list of goals Lacey had written shortly before his death.
On that list Lacey said he wanted to obtain his General Educational Development diploma, get a job and start a family.
Those dreams evaporated Tuesday morning when, police believe, someone kicked in the door to the Avondale Avenue home and killed Lacey and Franklin.
Officers went to the duplex after receiving a call shortly before 2 p.m. Lacey was found lying in the bed with gunshot wounds to his buttocks, back and upper left shoulder. Not far from Lacey, they found Franklin lying on the floor covered with a blanket.
Several people told police gunshots were heard in the upstairs apartment at about 6 a.m., but no one was seen leaving the apartment after the shooting.
Police have noted that items were taken from the house such as television sets and a DVD player. Watkins said the thought that the slayings could be related to a theft is inconceivable.
"Two flat screens [TVs] and some other little stuff — they could have taken that while he was asleep. They did not have to kill him," she said. "Pako was just so funny and a real cool person. He had a lot of friends and a lot of family. In a million years, I never would have thought this would happen to Pako."
Chief Rod Foley is encouraging anyone who knows anything to bring that information to police.
"We are trying to head off any potential retaliation. Somebody out there knows who is responsible, but we have not had anybody come forward," Foley said. "We are talking to people and asking that they come to us with information and let us do our jobs."
Watkins said the family is not interested in retaliation, but they do want police to find and arrest whomever is responsible for her cousin's death. She said the family and close friends are working with police, but she also encourages anyone else in the community with information to come forward.