Twins earn Eagle Scout awards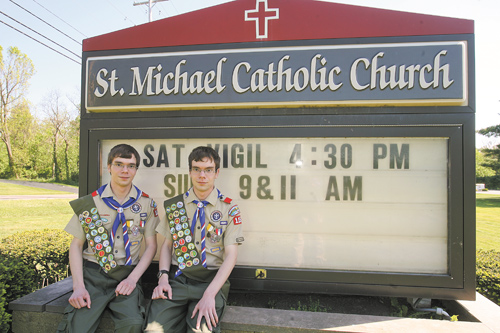 Photo
Alec and Eric Yurchekfrodl, 18, are twins who worked their way through Cub Scouts into Boy Scouts, starting in second grade. The seniors at Austintown Fitch High School recently earned their Eagle Scout awards by completing projects at St. Michael Catholic Church in Canfield.
By Elise Franco
Canfield
The recent influx of Eagle Scout projects focused at St. Michael Church in Canfield is a great benefit for the entire parish, says the Rev. Terrence Hazel.
Father Hazel said over the past year, members of Boy Scout Troop 115 Eric and Alec Yurchekfrodl, both 18 of Austintown, have worked to improve the overall appearance and functionality of the parish.
"They're really helping beautify our grounds and our buildings," he said. "I appreciate the young people and all they do for our parish."
Eric and Alec are twins and seniors at Austintown Fitch High School and members of St. Michael's parish. They said they chose their Eagle Scout projects based on the need of the parish and worked with Father Hazel during the planning process.
Alec completed his project by taking a plain slab of concrete behind the Family Life Center and turning it into a landscaped, usable patio space for youth groups and parishioners.
Father Hazel said the patio is put to better use now as a place for outdoor cookouts or just somewhere for the youth to go when they want to spend time outdoors.
"It's nice being outside with the fresh air and the sun and breeze," he said. "The inside of the youth center is a very nice space, but this gives them another option on where to gather."
Eric designed wardrobes and shelving in the choir room to help with storage and organization, something he said they were in desperate need of.
"They really needed a better place to store the choir robes and music," Eric said.
To earn the Eagle Scout honor, both boys were required to lead and manage the other members of the troop on their respective projects. The entire troop had a hand in building both projects.
"I'm glad it's done because it's nice to give back to the church in any way I can," Alec said. "I'm pleased with it, and the whole troop worked really hard."
Eric said being involved in scouting has taught the twins skills they'll use throughout their lives.
"Plus, it's fun for us to experience things we never would have if we hadn't joined," he said.
James Mularkey, 16, of Canfield, is another member of Troop 115 who also is in the process of completing his Eagle Scout project at St. Michael.
Mularkey is planning to erect a 9/11 Memorial and flag pole on the church grounds.
The Canfield High School sophomore said he's in the fundraising stages of his Eagle Scout project but hopes to have the flagpole and memorial in place by July 4.
Father Hazel said he thinks the members of Troop 115 continue to focus their efforts on the parish because they feel a sense that it's theirs.
"I think it's great that the Boy Scouts and all of our kids feel a real ownership of the parish," he said. "They feel this is their church, not just their parents' church that they go to. They take a real pride and ownership in it."