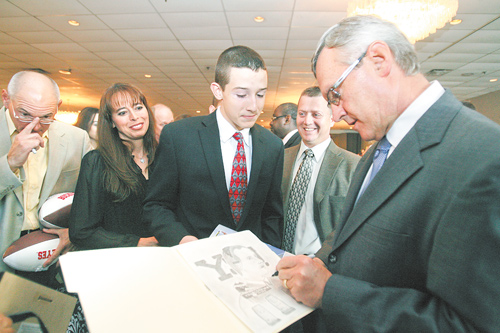 Photo
Jim Tressel, former Youngstown State and Ohio State football coach, autographs a drawing for Anthony Lattanzio, 15, of Poland at the United Way's Champions Among Us dinner Thursday at Mr. Anthony's in Boardman. Also speaking at the fundraiser was Penn State senior running back Michael Zordich, a graduate of
— United way of Youngstown and the Mahoning Valley SEmD
Back in Northeast Ohio, Jim Tressel is content with his new role
By Tom Williams
Boardman
After spending a little more than half a season in the NFL, Jim Tressel won't rule out a return to coaching in professional football.
But the former Ohio State and Youngstown State coach said it's unlikely for his immediate future.
"Right now, I would say that wouldn't be something I would lean towards," Tressel said Thursday at Mr. Anthony's where he was the keynote speaker for the United Way Champions Among Us banquet. "I'm really enjoying what I am doing."
One year after resigning from Ohio State, Tressel is vice president of strategic engagement for the University of Akron.
Asked about his interest in coaching in the NFL, Tressel responded, "Right now, the answer to that is I don't think so, but I'm old enough to know that you never say never.
"I like to be somewhere and see if you can go for the long haul," said Tressel who was YSU's coach for 15 years before spending 10 in Columbus. "I've never liked to be someone who goes one year here, two years here, whatever."
Last summer, Tressel accepted Indianapolis Colts coach Jim Caldwell's invitation to serve as video replay consultant. Tressel sat out the first six Colts games to fulfill the suspension he had placed upon himself at Ohio State before resigning.
"It was great because of the people," Tressel said. "Jim Caldwell is one of the finest human beings I've ever been around. The only thing that disappoints me is that I only had six months with him.
"But it was a great experience, it really was."
When Caldwell was fired, Tressel was among those interviewed by Colts owner Jim Irsay before Baltimore Ravens defensive coordinator Chuck Pagano was named coach.
In early February, Tressel took the Akron job.
Tressel's 30-minute speech to approximately 1,000 people in attendance followed a 20-minute video tribute from his YSU family, including players Jeff Wilkins, Mark Brungard and Tamron Smith.
"I've never been happier in my life being with folks like this, the blessings that we've had," Tressel said. "When you are part of a family, you recognize that the memories of the things that you have done together are more valuable than anything."
Another speaker was Penn State senior running back Michael Zordich, a graduate of Cardinal Mooney High.
"I can't say enough about Coach [Bill] O'Brien, especially stepping in [to replace Joe Paterno]," Zordich said of Penn State's new coach. "Most importantly, the guys on the team love him and will battle for him."
The banquet also honored the Mahoning Valley's high school state champions from the past 12 months, including Mooney football and Poland softball.
Tressel said he's not missing the grind of coaching.
"Ever since the Colts season ended, I haven't had any big urging to watch film and so forth," Tressel said.
He compared his new job of recruiting and counseling students to his old one.
"In my former life, it wasn't as much watching film as student development," he said. "And that's kind of what we are doing.
"I've always had 120 kids; now I feel as though I have 30,000. My number one task is student success programming.
"Honestly, I can say I've never been happier," Tressel said.