HIV-positive man sentenced to three years for assault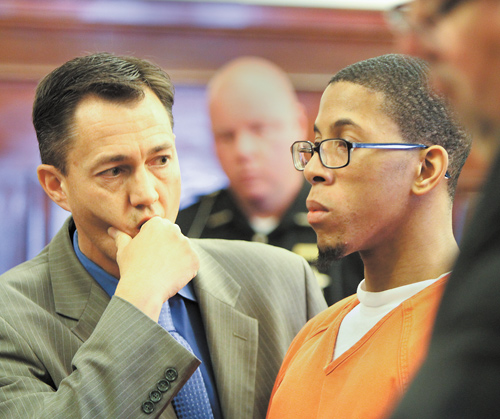 Photo
Randal Brown, right, faces sentencing with his attorney, Ronald Yarwood, in the courtroom of Judge R. Scott Krichbaum of Mahoning County Common Pleas Court. The judge sentenced Brown to three years in prison Thursday for having unprotected sex with a woman while knowing he was HIV-positive.
YOUNGSTOWN
A Youngstown man has drawn a three-year prison term for having unprotected sex with a woman while knowingly infected with HIV, the virus that causes AIDS.
Randal Brown, 23, appeared for sentencing Thursday before Judge R. Scott Krichbaum of Mahoning County Common Pleas Court. He previously had pleaded guilty to felonious assault, a crime that could have landed him in prison for up to eight years.
Prosecutors and attorney Ronald Yarwood, representing Brown, reached an agreed-upon recommendation of three years in prison in the plea agreement.
Judge Krichbaum noted that a pre-sentence investigation prepared by the adult parole authority recommended Brown serve no jail time, but be released on probation.
"This type of crime can be viewed as one where you should receive more time, but the probation department sees it differently; they don't think you should go at all," he said. "The victim in this case is victimized more than once. ... She is made to suffer in a way no one should have to suffer, so you deserve to go to the penitentiary."
The judge said it is also noteworthy that Brown has no prior criminal record and that he was born with or "inherited" the illness. Judge Krichbaum ultimately decided to adopt the recommended three-year sentence. Brown will get credit for the 211 days he has spent in the Mahoning County jail on a $1 million bond.
Brown chose not to make any statements in court before his sentencing.
Michael McBride, an assistant county prosecutor, said prosecutors decided to go forward with the plea agreement because it saved the victim from having to appear in court. He said the woman is still a college student and attempting to get on with her life.
"The victim did not want to appear, and this seemed to be a just resolution to this case," he said.
McBride said the 20-year-old woman said she came forward because she wants to protect other women who may get involved with Brown. Police and prosecutors asked for any other potential victims to come forward, but no one has done so.
According to police, Brown had been involved with the woman since December 2010. He reportedly had been having sex with the woman without revealing his health status.
The woman reportedly became ill last July. It was shortly after she became ill that Brown told her of his HIV status, saying that he had been born with the illness and has known of his status since he was 15.
Brown was arrested last November. Police found him working and living in North Carolina, where he fled after the felonious-assault complaint was filed against him Aug. 30.
McBride wanted Brown to be labled and registered as a sexually based offender upon his release from prison but did not include that provision in the indictment or plea agreement. Judge Krichbaum said he cannot impose a stipulation on Brown that he did not agree to at the time of his entering into the plea agreement.