---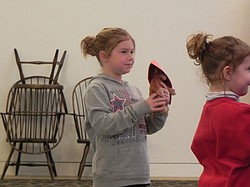 Photo
Neighbors | Sarah Foor .In the story "Caps for Sale," a group of tricky monkeys steal all the hats from a hat peddler after he lays down for a nap. While acting out the tale on April 28, Anastasia Dilts (left) placed a hat on a beanbag monkey as she followed the story.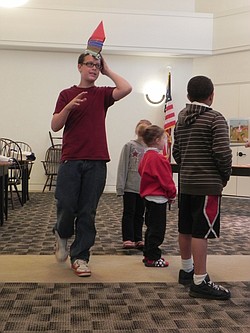 Photo
Neighbors | Sarah Foor .During librarian Hayley McEwing's reading of "Caps for Sale" on April 28, guest Nick Yeager (left) acted as the hat peddler from the story who piles his product on his head.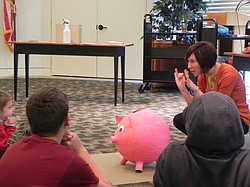 Photo
Neighbors | Sarah Foor .Austintown librarian Hayley McEwing (right) taught a group of guests about the importance of saving with a piggy bank during the "Bored: Games! - Money Matters" event on April 28.
By SARAH FOOR
The Austintown library offered entertainment and education for a group of guests during its "Bored? Games!: Money Matters" event on April 28.
Librarian Hayley McEwing hosted the event as part of the library's Smart Money program, which promotes financial literacy initiatives for youth and adults.
The program for young spenders included a story time with the classic story "Caps For Sale" by Esphyr Slobodkina.
The tale follows a hat peddler who piles a collection of his product on his head. After laying down for a nap, the peddler finds a group of monkeys have stolen his hats and is frustrated until he learns how to get his caps back.
McEwing made the story interactive by having guests act as the peddler and the monkeys. The volunteers learned about math concepts by counting the peddler's hats and explored the ways in which the salesman conducted his business.
The group played with financial board games and crafts following the story time that included coloring, tattoos and stamps, and money quizzes on an iPad.
"With our Smart Money programs, we hope to teach kids about being financially smart at a young age. Today, our games teach the kids about the difference between wants and needs, identifying currency and coins, saving, and adding and subtraction. It's sound financial education that will greatly serve them as they grow," McEwing added.