Published: Thu, May 17, 2012 @ 12:04 a.m.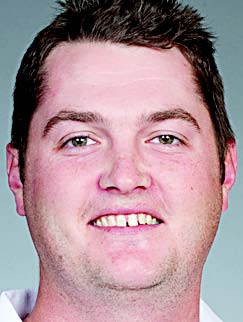 Photo
Warren native launched PGA career five months ago
Five months into his rookie PGA Tour season, Jason Kokrak is trying to figure out how to play better golf.
"I'm working it out," the Warren JFK High graduate said earlier this week as he prepared for the HP Byron Nelson which started today in Texas.
Although there's an allowance for the learning process, Kokrak's play hasn't been up to par lately as the PGA season approaches the halfway mark.
"I was a little frustrated with my game a couple weeks ago, but it's starting to come around and take a turn for the better, so I'm looking forward to playing some good golf here in the near future."
After missing several cuts, Kokrak bounced back to finish tied for 57th in the Zurich Open of New Orleans, then missed the cut again in the Wells Fargo Championship in Charlotte, N.C.
The week-on, week-off pattern isn't a sign of errant play, but it's not a sign of progress, either.
"I've had quite a few ups and downs for a while, but all golfers are going to go through spurts when they putt it good or hit it bad or hit it good and putt it bad. So I'm trying to piece everything together is what's going to help you win out here on Tour."
When his driving [off the tee] was giving him problems, he managed to salvage his week in New Orleans, but not in Charlotte.
"The course [in New Orleans] was big, so I was able to miss it in quite a few spots, yet it was easy for me to get around. It wasn't too bad of a course to hit sideways, yet still stay in play."
So, even though his hitting wasn't great, the spaciousness of the course helped his recovery.
"When you're playing bad and not hitting it great [hitting sideways with a driver and long irons and playing from areas you don't normally play from], a bigger golf course will do you quite a bit of good," Kokrak said. "The next week was a tougher golf course because I hit it sideways, but wasn't able to make the putts when I needed to.
"The short game saved me in New Orleans, but it wasn't quite there the next week. So, it was a tough little stretch there for me."
After the Wells Fargo Championship, Kokrak took the week off, stayed at home in Charlotte and set the clubs down for a few days.
"I was just really struggling with my game and I was a little down with how I was playing, but, after taking the week off, I was pleased with how I was starting to hit the ball a little bit better and started to work out a few of the kinks.
"If you're trying to work on things during the middle of the week and you're not playing that great, then it's going to be tough for you. I'm trying to figure out how to play some better golf."
What's the fallout from his up-and-down season?
"I'm not in the Colonial [in Fort Worth, May 24-27], right now, and I did not get an exemption into the Memorial, which I was hoping for this year," he said of the event at Muirfield Village outside of Columbus from May 31-June 3. "I didn't play that great this year, but I was still looking forward to trying to play that tournament. But I didn't receive the exemption."
Would good play this week change his chances?
"You never know what's going to happen. They're both invitationals, so, if you play well enough, you might end up getting that exemption."
If not, what's the outlook beyond May?
"Everything's based on how you play, but I think I'll be OK to play quite a few events for the rest of the year."