Agee gets 40 years in killing of 'special man'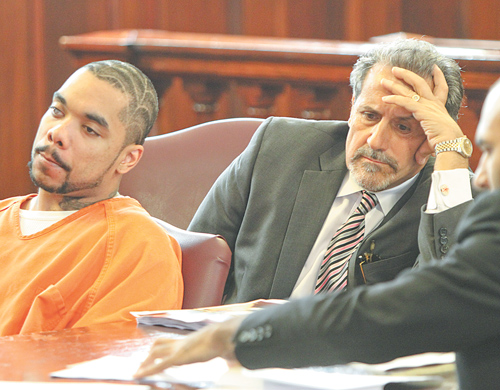 ---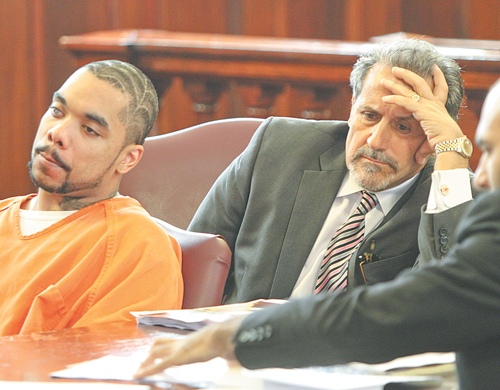 Photo
Agee and his lawyers James Gentile, center, and Rhys Cartwright-Jones await the sentence of Judge Maureen A. Sweeney.
Agee gets nearly 40 years in killing of 'amazing man'
YOUNGSTOWN
Kevin Agee said he is not responsible for the death of Thomas Repchic and wounding Repchic's wife.
Family members of the Repchics, however, said Agee should be in prison for as long as possible.
By the end of the sentencing hearing Wednesday afternoon, Judge Maureen A. Sweeney of Mahoning County Common Pleas Court informed Agee, 26, of Youngstown, he would be spending nearly four decades behind bars.
In April, a jury convicted Agee of murder, attempted murder and two counts of felonious assault, as well as all the firearm specifications that accompany those charges, in the murder of Repchic, 74, and the wounding of his wife, Jacqueline.
Thomas McBride, one of the Repchics' grandsons, addressed the court before Agee's sentencing. He spoke about the last time he saw his grandfather alive and the pain caused to the family after the shooting.
"I want the court to know what a special man my grandpa was and the effect he had on others. ... In my opinion, the world lost the most amazing man I have ever known," McBride said. "Our only hope is that [you] impose the maximum penalty on this man who has shown no remorse so that he can never cause another family this much pain."
Police said the shooting was a case of mistaken identity. They allege Agee and his 30-year-old co-defendant, Aubrey Toney of Youngstown, were looking to shoot two other men who drove a car similar to the Repchics' in September 2010.
Toney is set to go on trial in October. He could face the death penalty if convicted.
Agee told the court he is sorry the Repchic family has been caused such a tremendous amount of pain.
"I am not responsible. I will never claim responsibility and will continue to fight for my freedom," he said. "I am remorseful. This is not something a family should have to go through. I have a mother and a grandmother, too. This is not something anyone should have to go through."
Dawn Cantalamessa, an assistant county prosecutor, asked Judge Sweeney to impose consecutive maximum sentences on each of the charges against Agee.
Atty. Rhys Cartwright-Jones, representing Agee, told the judge maximum consecutive sentences are not what she should impose because some of the charges should merge for the sake of sentencing, resulting in less prison time for his client.
Atty. James Gentile, also representing Agee, reminded the court of an accident that left Agee blind in one eye and another accident, when he was 19, that almost killed him and left him mentally damaged. Gentile also told the court his client is remorseful.
Judge Sweeney decided not to merge sentences for any of the gun specifications against Agee, but did merge sentences for the two felonious-assault charges. The end result is a sentence of 39 years to life for Agee.
He will receive credit for the time he has spent in the county jail before and after his conviction.