Nittany Lions in the Valley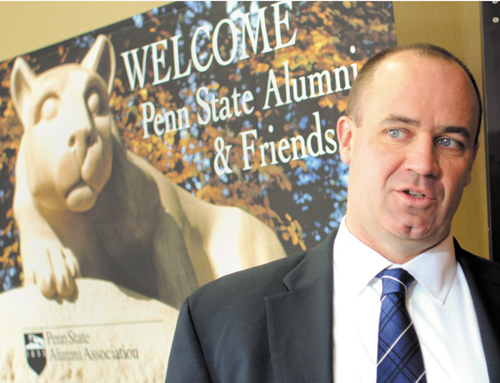 ---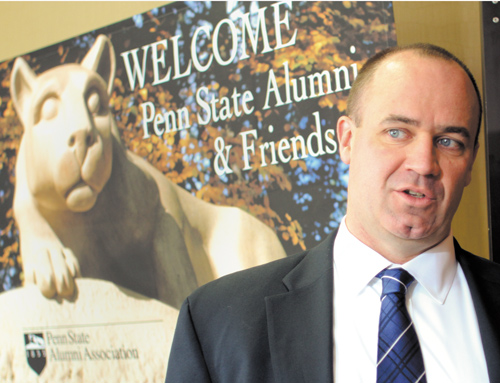 Photo
New Penn State football coach Bill O'Brien wants the Mahoning Valley to continue being an important recruiting area for the Nittany Lions. He cited players like Michael Zordich, Darryl Clark and Brandon Beachum as the "pipeline" of players to State College, Pa.
By Tom Williams
BOARDMAN
Bill O'Brien's first trip to the Mahoning Valley as Penn State's head football coach certainly won't be his last.
"We're going to recruit the heck out of this area," said O'Brien, who was named Joe Paterno's successor on Jan. 6. "We know this [area] can be somewhat of a pipeline to Penn State.
"We've just had so many guys who have come through from this area," O'Brien said on Tuesday before the Penn State Coaches Caravan luncheon at the Holiday Inn.
O'Brien cited current Penn State running back Michael Zordich (Cardinal Mooney) as well as as recent Nittany Lions quarterback Darryl Clark (Ursuline) and running back Brandon Beachum (Cardinal Mooney).
"And all the guys [from here] who have contributed so much to the history of Penn State football," O'Brien said. "We're happy to be here."
For O'Brien, it has been a whirlwind five months of accomplishments and change. The offensive coordinator for the New England Patriots last fall, O'Brien called plays for quarterback Tom Brady's offense as the Patriots earned the top seed for the AFC Playoffs.
After being hired at Penn State, O'Brien, 42, continued with the Patriots for a Super Bowl run while his Penn State staff took charge of recruiting. New England (13-3) defeated Denver and Baltimore, then fell to the New York Giants, 21-17, in Super Bowl 46 on Feb. 5.
O'Brien credits Patriots head coach Bill Belichick for helping make a smooth transition from the NFL to one of the nation's top college football programs.
"He was great about it," O'Brien said. "I was able to put a staff together very quickly at Penn State and those guys hit the ground running.
"They were able to get out there and secure the recruiting class. At New England, my focus was on the Patriots.
"Bill Belichick gave me a Penn State liaison" from the Patriots staff, O'Brien said. "It was a really smooth transition because of the help from both sides."
As a first-time head coach replacing a legend, O'Brien realizes that huge expectations are on his shoulders.
"There will never be another Joe Paterno," O'Brien said. "I have a tremendous amount of respect for what he did. As a young coach growing up, I certainly looked up to Joe Paterno because of what he stood for.
"But at the same time, I'm just trying to be myself and our staff is just trying to put in motion our vision for the new era of Penn State football by showing respect for the past and doing it in ways we believe in," said O'Brien who spent the past five seasons with the Patriots.
"I'm not trying to replace Joe Paterno, that will never happen," O'Brien said. "No one will ever coach 46 years and win 409 games."
O'Brien is in the middle of three weeks of mini-trips to meet alumni and fans, many of whom were not happy with how Paterno's career ended in his firing in November after details of the Jerry Sandusky child abuse scandal emerged.
Paterno died of lung cancer on Jan. 22.
"They've been very, very supportive," said O'Brien of the fans he's encountered. "I don't see any anger.
"It's a passionate fanbase that wants to do things the right way — win football games and make sure [we] are graduating players, making sure Penn State football players have a well-rounded experience, which is what we're all about.
"It's been a very supportive trip," O'Brien said.
Last month, O'Brien's wife, Colleen, and their sons Jack (age 9) and Michael (7) moved to their new home in State College, Pa., and O'Brien said it's helped him get through the whirlwind.
"With coaching, you have to budget your time, you have to be a good multi-tasker, but you also have to make time for your family," O'Brien said.