Hockey coach embraces USHL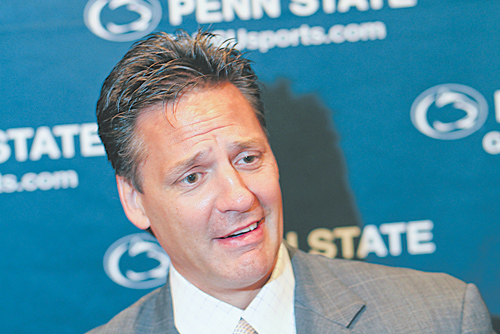 Photo
Guy Gadowsky will begin his second season as coach of the Penn State men's hockey program, which begins Big Ten play in 2013-14.
By Tom Williams
BOARDMAN
As Penn State's men's ice hockey team prepares for the huge leap to NCAA Division I status, the Nittany Lions' head coach has an appreciation for the United States Hockey League and the Youngstown Phantoms.
"The USHL is a fantastic league," said Guy Gadowsky, who visited the Mahoning Valley on Tuesday as part of the Penn State Coaches Caravan that stopped at the Holiday Inn. "When I was at Princeton, we recruited [Phantoms captain] Mike Ambrosia, their leading scorer."
"It's a league that we are very comfortable with," said Gadowsky, who guided Penn State to a 34-29-5 record in the Nittany Lions' final year as a club team. "I truly believe it is the best college prep league in the nation.
"The league is very competitive and they've done a good job of keeping it small, which means they are the undisputed top league in the United States," Gadowsky said. "There are only 16 teams so whether you are from the East Coast or West, you want to be in the USHL. That's why they get the very best.
"That's why so many USHL players go on to Division I hockey and [sometimes] further to the NHL," Gadowsky said.
After two seasons in Youngstown, Ambrosia will begin his college career this summer. Two other Phantoms — defenseman Kevin Liss and forward Jonathan Liau — also will play for Princeton.
Gadowsky, 44, was Princeton's coach for seven seasons before taking over the Penn State program last year.
This fall, the Nittany Lions will be a Division I independent team. A year later, they will join Ohio State, Michigan, Michigan State, Wisconsin and Minnesota in a new Big Ten conference.
"That will be the best college programs in the nation night in and night out," Gadowsky said. "They have dominated their conferences. It's going to be a power conference.
"It's going to difficult, but that's why you go to Penn State, to play the very best," Gadowsky said.
That means Penn State has step up its game in finding top-level juniors.
"We're going to go everywhere to get the best student-athletes," Gadowsky said of recruiting. "We have recruits coming in from Alaska, British Columbia, Alberta, Ontario and Pennsylvania, obviously.
"And we'd love to get the best players from this area," Gadowsky said. "With us going Big Ten, that would gave them the option to play the best college hockey that there is and stay close to home.
"Our staff is in place and we did a lot of recruiting," Gadowsky said of his first year at Penn State.
Fifteen players will return for the Division I experience. Penn State will play 21 Division opponents and 13 games against Division III teams plus the U.S. National team that also plays in the USHL.