Davidson's vast menu, good food work together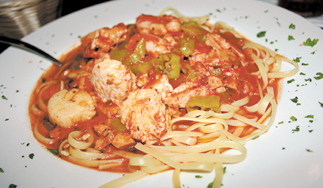 ---
About Food:30
We'll be offering a glimpse into local restaurants and eateries, reviewing their food offerings.
CORNERSBURG
If you go
Where: Davidson's, 3636 Canfield Road, Cornersburg
Phone: 330-793-0033
Breakdown:
Fried Mozarella sticks (6): 5.95
Eggplant Parmesan: $7.50
Linguine Diablo: $16.95
I was still jet-lagged from our long weekend in Mexico for my brother-in-law's wedding when my wife and I walked through the doors of Davidson's restaurant in Cornersburg. Four days in paradise basking in the sun eating chorizo, rice and poolside Hawaiian flat breads left me longing for a dinner with my wife that would bring me right back to food culture of Youngstown. The first impression of Davidson's makes it seem in limbo between a sit-down restaurant and a sports bar. The center of the room houses a wrap-around bar with an island of six flat screens surrounded by high-top tables and booths. The menu didn't help me decide either, because it had everything from a complex dinner entree Veal Marsala all the way down to a Pepper and Egg sandwich. One thing that is consistent is anyone who has ever mentioned Davidson's to me has said it is some of the best food in town. Now it was our turn to decide for ourselves.
We ordered the fried mozzarella sticks to keep us busy while we looked over the large menu. They were golden brown with a nice breading. The marinara sauce for dipping was full of Italian herbs and spices, making me realize right away that someone in the back has a talent for good red sauces. After a lot of deliberation, I decided to go with the Linguine Diablo and get a little of that sauce skill in my mouth. This was a seafood medley of shrimp, scallops and clams with hot peppers and marinara sauce that absorbed the flavors of the seafood. It was great flavor and portion for a big guy such as myself. Steph ordered an Eggplant Parmesan sandwich. Although not as complicated as my meal, she liked the flavor a lot. The eggplant was fresh and cooked perfectly, and once again it had that fantastic breading on it. She said it would be great to pair with a nice sweet red wine when you don't quite want a big dinner but are still hungering for some Italian taste. Overall we were impressed with how much was actually on this menu and the consistency of the quality. It offers a lot a choices that can sometimes be aggravating when you are really hungry, but it's great too because you will ultimately find something to satisfy your hunger. We both agreed that at the end of this meal what everyone has been talking about is true. Davidson's food really is good, and the selection and environment serve two opportunities to sit down with family or enjoy a night out with friends. Check out our blog on
www.vindy.com/valleyfood