Berry delivers for Ursuline in ninth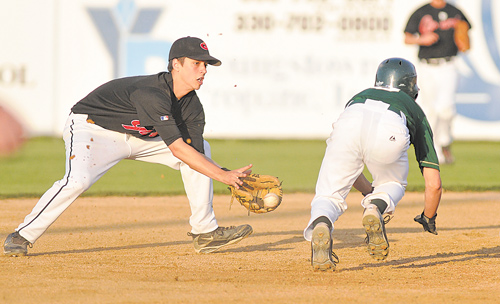 Photo
Girard shortstop Nick Cavalier attempts to pick off Ursuline's Joel Hake. Hake was out on the play, but the Irish beat the Indians in the Division III district final, 3-2, in extra innings.
By Greg Gulas
STRUTHERS
Tannor Berry's single with two outs in the bottom of the ninth inning gave the Ursuline Fighting Irish a 3-2 victory over Girard and capture the Division III district baseball championship Tuesday at Cene Park.
Ursuline (18-5) advances to the regional semifinals in Massillon next week against LaGrange Keystone. It will be a rematch of last year's regional semifinal.
"It was a fastball that was up in the strike zone and a pitch that I wasn't even looking for in that situation," Berry said.
"I knew when I hit it that it had a chance to get down and luckily it did. It's fun to be up with the game on the line and an even greater feeling when you can deliver," he added.
Ursuline coach Sean Durkin lauded both Berry and the pitching by junior Sam Donko.
Donko, who pitched the first eight innings, struck out eight and scattered five hits while yielding just one walk.
"Sam's effort was absolutely incredible tonight. It's the type of effort that we have come to expect of him when he takes the mound," Durkin said.
"As for Tannor [Berry], he might be our ninth batter in the line-up but he's an athlete and someone that we want up in that situation."
Ursuline scored in the first inning when Harry Finelli's double scored Anthony Rohan, who had singled for the first of his game-high three hits.
The Irish made it 2-0 in the second when Berry's sacrifice fly plated Matt Lacko, who had led off the inning with a single.
Donko retired 12 of the first 13 batters that he faced before Ryan Forte's single to lead off the fifth inning broke up his no-hit bid.
In the sixth, Forte's two-run single tied the score at 2-2.
Winning pitcher Dion Felger, who relieved Donko to start the ninth inning, allowed a double to Dom Aurilio — his third in the last two days — to start the inning but was able to retire the next three batters.
With two outs, a walk to Lacko and a single by Joel Hake put runners at first and second.
A wild pitch advanced each runner before Berry's hit.
"I felt like I had good control and all game, as a team, we never got down on ourselves, feeling like we could get it done in extra innings," Girard pitcher A.J. DeVore, who went a career-best nine innings, said.
Girard coach Jason Johnson was proud of his team's effort.
"One or two plays does not constitute a win or a loss but we lost a heartbreaker today.
"You witnessed two great pitching performances tonight by both A.J. DeVore and Sam Donko.
"It all boils down to the fact that we were just a play away from advancing to the regionals," he added.