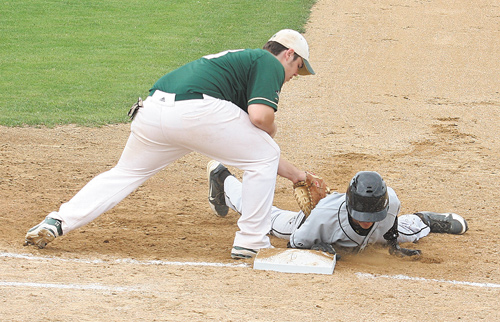 ---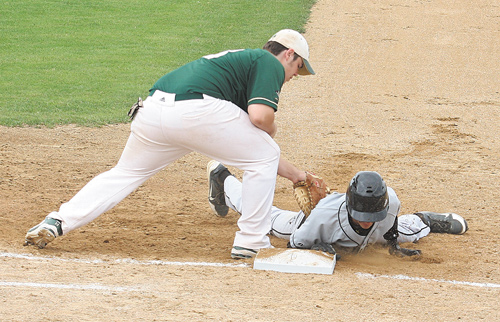 Photo
Crestview's Austin Eskra (10) scrambles back to the bag as Ursuline's Sam Donko (13) applies the tag during a Division III district semifinal baseball game Monday at Cene Park in Struthers. The Irish downed the Rebels, 4-1, and will defend their title in the district championship today against Girard. The game will get underway at 7 p.m. at Cene Park.
Ursuline takes advantage of miscues
struthers
Crestview made an impression in its first district baseball tournament appearance in 10 years, but any opportunity to extend the accomplishment ended in one inning.
Trailing Ursuline, 2-1, entering the bottom of the fifth, Crestview gave up a leadoff hit to Tannor Berry, then the Rebels committed two errors to help Ursuline widen the gap to finish a 4-1 winner in a Division III district semifinal at Cene Park.
The defending district champion Irish (17-5) play Girard today at Cene in the district title game.
"Their pitcher did a great job keeping us off-balance, offensively, so we had to try to play for runs here and there to give ourselves a little bit of a cushion," Ursuline coach Sean Durkin said of bunts and base-stealing attempts that countered the pitching of Anthony Marnejon, who held the Irish to one hit through the first three innings.
"We were moving a guy [Berry] over and they throw the ball away and that gives us a little bit of a cushion," Durkin said of Berry stealing second during Paul Pegues' bunt to the mound that resulted in an errant throw to first base. "When you're having at-bats like we had today, you need to do things like that."
Berry scored to give Ursuline a 3-1 lead and Anthony Rohan's sacrifice fly allowed the speedy Pegues to tag up from third to score the game's final run. A dropped fly ball in center field was inconsequential, but it prolonged the inning.
"I think the fifth inning is pretty much what determined the game because of the two errors," Crestview coach Matt Strank said.
Each team had three hits: Ryan Strollo, Joel Hake and Berry for Ursuline and Brandon Brooks, Zach Moore and Matt May (a double) for Crestview.
After scoring and stranding a runner at third base in the third inning, the Rebels stranded runners on second base in the fourth, fifth and sixth innings.
While Marnejon (2-2) went the distance for Crestview, Ursuline used Harry Finelli (4-0) for four innings before Sam Donko and Hake finished.
Finelli gave up one run and two hits and he struck out three and walked two. Donko pitched the fifth and sixth, allowing one hit, striking out four and one walk.
"In a game that tight, we thought he was tiring a little," Durkin said of Finelli. "We didn't want to wait until it was a tie game or we were down a run before we made a move. We wanted to be a little pre-emptive, and it worked out. Sam [Donko] came in and shut the door and kind of changed the momentum for us."